Salesforce.com Is Only The Tip Of The Iceberg
Salesforce.com (NYSE:) shocked the market when it reported for the 2nd quarter. We knew the pandemic had accelerated the shift to digital and with it the cloud but the numbers are mind-boggling. Salesforce.com, a company whose business is helping other businesses manage their client relationships via the cloud, saw its revenue jump 27.5% on a YOY basis to top an already-elevated consensus by 40 basis points.
The problem with Salesforce.com is that it's trading nearly 75X its earnings and is no bargain. Not when you compare it with some other cloud-computing gems poised to grow under these new conditions. If you are thinking the surge in cloud-business will slow, ebb, or even evaporate think again. These trends are sticky, the pandemic proved how useful the cloud can be in everyday life, not just for school and business. If there was ever a need for businesses to adopt technology it is now and the cloud is where the growth will be strongest.
VMWare Creeps Out From Dell's Shadow
VMWare (NYSE:) is a cloud-computing specialist and an offshoot of Dell Technologies (NYSE:). It's in business as a cloud-migration, operations, and security firm with a growing emphasis on subscription and SaaS revenue. The company just released its 2nd quarter a week ago and gave an impressive report. The company saw its revenue grow 10% on a YoY basis with notable strength in the subscription revenue. Subscription and SaaS revenue grew a combined 11% YoY and, more importantly, is now worth 20% of the business.
In terms of its value, VMware is trading at 21.75 times this-years earnings and only 19.8X next. Compared to Salesforce.com that's quite a gap and opportunity for expansion in the coming quarters. In the near-term, a high 9.0% short-interest may keep price action under pressure but I wouldn't count on prices to make a deep pullback. Support looks good in the $135 to $140 range.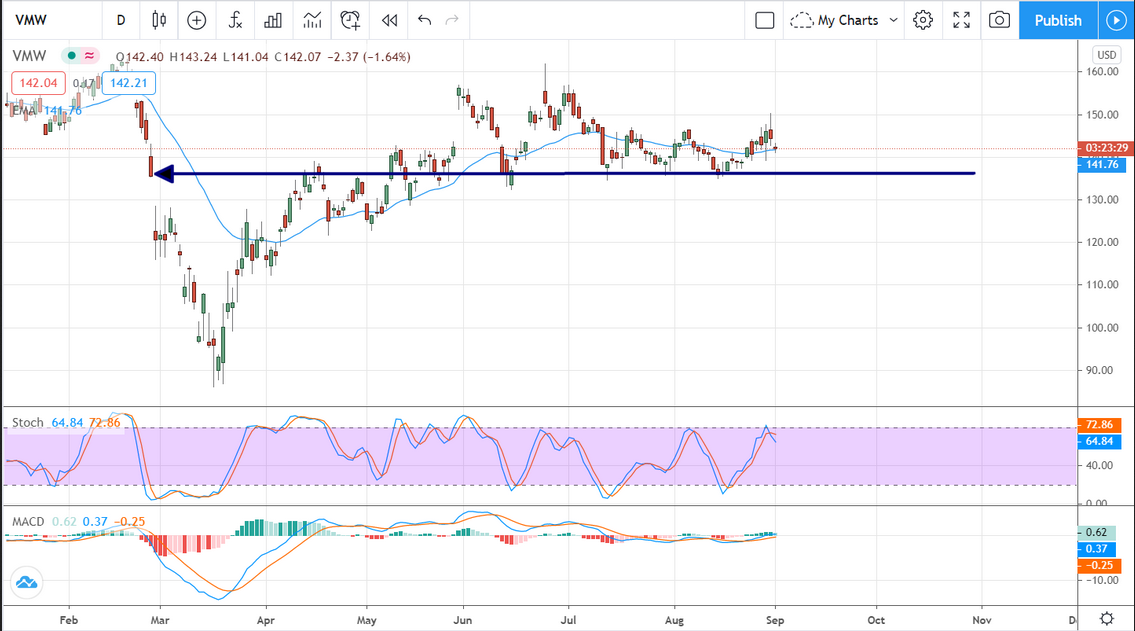 Rackspace Moving Up On Value, Earnings, And Outlook
Rackspace (NASDAQ:RXT) is another cloud-migration, software and SaaS play that offers a tremendous value to shareholders. The stock, even with trading at new post-IPO highs, is only valued about 19X its next-years earnings but that valuation is misleading. The company just reported its 2nd quarter results to include a 107% uptick in billings that points to solid gains in the coming year. What this means is the analyst's consensus likely too low and the valuation much cheaper than it looks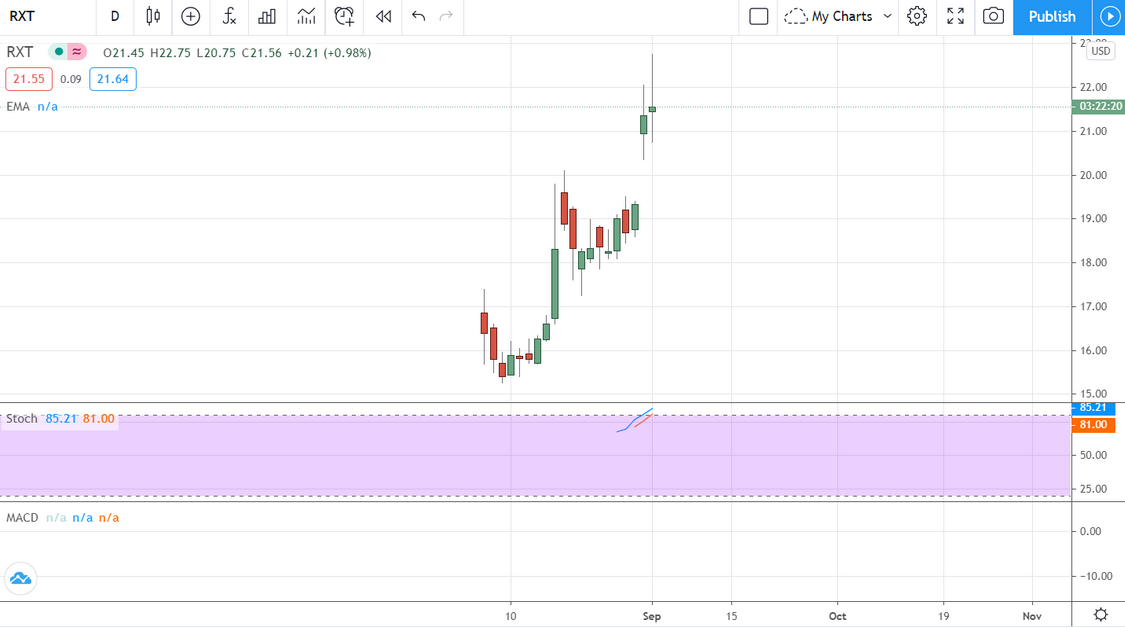 Cloudlfare Is An Integrated Approach To Cloud-Computing
Cloudflare (NYSE:) emerged as a winner early this year when the shift to work-at-home began to gain traction. The company offers an end-to-end cloud-based platform that enables businesses to do whatever it is they do while capitalizing on the cloud in a safe and secure manner. The platform includes security, performance enhancements, reliability services, internal controls and consumer applications across a wide array of applications that are seeing robust demand.
Cloudflare is on track for profitability in fiscal 2023 (according to the analysts) but will likely beat that mark by a year. The acceleration in tech adoption resulted in a 47.9% increase in YoY revenue for the and the estimates keep rising. The latest consensus is 2020 revenue will grow 40% and then slowly decelerate to a mere 30% over the next two years.
Looking at the chart, shares of Cloudflare have been trending higher all year, and look ready to resume that trend. The short-term moving average well supports the consolidation, and the indicators are set to fire trend-following signals. There is some resistance in the $43 range but, once surpassed, this stock is likely to trend higher into the end of the year.