The has edged lower in the Wednesday session. Currently, the index is at 11,189, down 0.26% on the day. After a slow start to the week, there are a host of events on Wednesday. The key event is , which is expected to post a decline of 0.9%. In the U.S., the highlight is the Federal Reserve rate statement. The U.S. will release a host of employment numbers during the week, starting off with ADP . The indicator is forecast to fall sharply to 180 thousand, down from 271 thousand. On Thursday, the eurozone releases Preliminary Flash GDP.
The eurozone economy has slowed in recent months, and Germany has not been immune to softer numbers. There was positive news on Wednesday, as German GfK Consumer Confidence estimating a score of 10.8 for February, higher than the revised reading of 10.5 points for January. The well-respected GfK projected that consumer spending would climb 1.5% in 2019, but warned that a further escalation in the global trade dispute would hurt consumer spending. Last week, German Ifo Business Climate dipped to 99.1, below the 100-level for the first time since 2010. There was also grim news from the manufacturing front, as German manufacturing PMI slipped to 49.9, falling into contraction territory for the first time since 2013.
The U.S.-China trade spat will be back in the headlines this week, as Chinese and U.S. officials will hold a second round of talks on Wednesday and Thursday. The stakes are high, as the trade tensions between the two largest economies in the world has taken a toll on the global economy and rocked world equity markets. On Monday, U.S. Treasury Secretary Steven Mnuchin said he expects significant progress in the talks, but warned that the sides would have to tackle "complicated issues". Tensions between China and the U.S. have escalated in recent weeks, with the U.S. Justice Department filing criminal charges against Huawei, a Chinese technology company.
Economic Calendar
2:00 German GfK Consumer Climate. Estimate 10.3. Actual 10.8
2:00 German Import Prices. Estimate -0.8%. Actual -1.3%
All Day – German Preliminary CPI. Estimate -0.9%
Tentative – Germany 10-year Bond Auction
14:00 US
14:00 US Federal Funds Rate. Estimate
14:30 US
Thursday (January 31)
2:00 German Retail Sales. Estimate -0.5%
3:55 German Unemployment Change. Estimate -11K
5:00 Eurozone Preliminary Flash GDP. Estimate 0.2%
5:00 Eurozone Unemployment Rate. Estimate 7.9%
*Key events are in bold
DAX, Wednesday, January 30 at 7:25 EST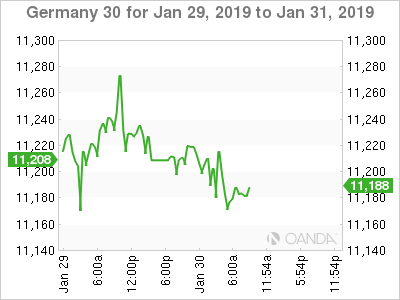 DAX Chart
Previous Close: 11,218 Open: 11,209 Low: 11,160 High: 11,215 Close: 11,186