Slack Technologies (NYSE:) is well-known for its workplace messaging platform, which enables employees to communicate virtually while working in the office or remotely. Popular with small-sized businesses and enterprise customers alike, coronavirus has provided the ideal environment for the software-as-a-service cloud-based company to thrive.
However, Slack's stock has significantly underperformed its work-from-home peers over the past three months. Although Slack  estimates in the first quarter earnings Jun. 4, its full-year guidance disappointed and shares have since tumbled nearly 27%.
On Friday, the stock slid more than 6% to close at $29.07, giving the workplace-collaboration software provider a market cap of roughly $19 billion.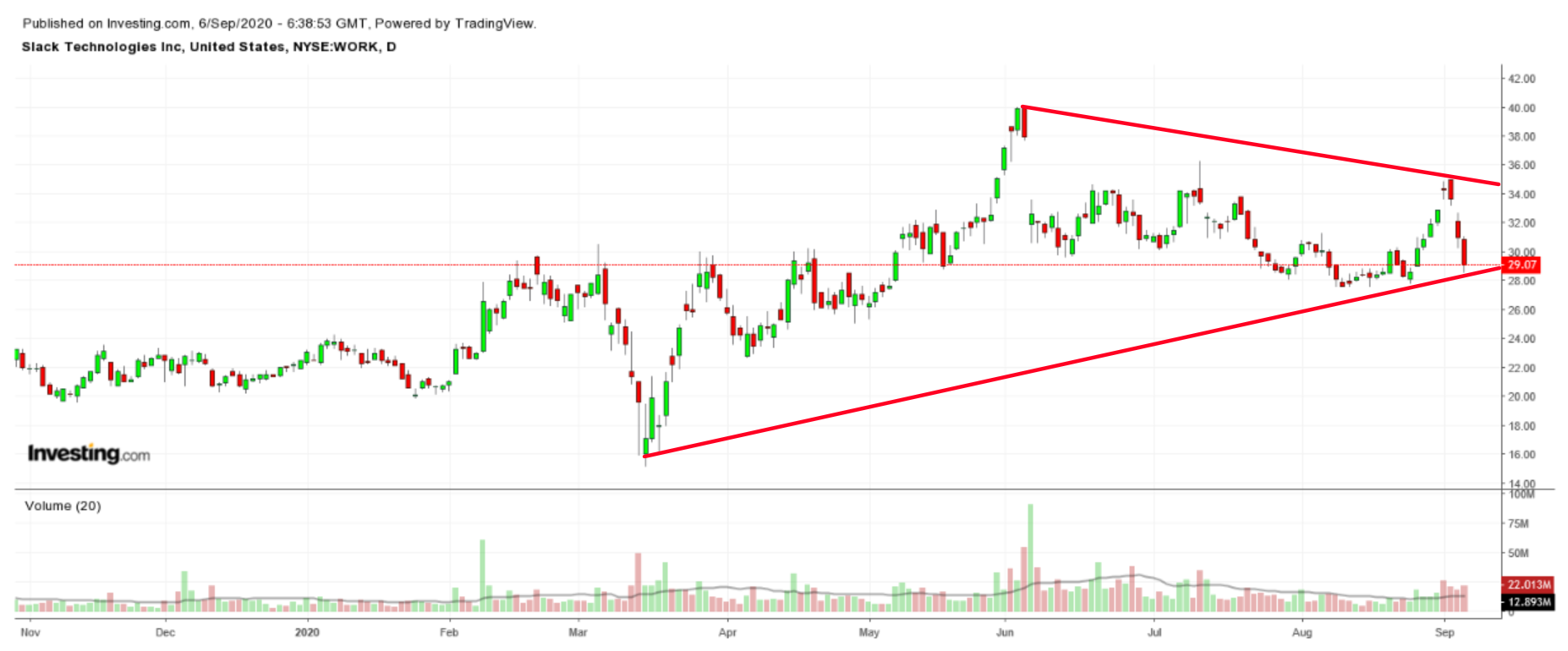 The San Francisco, California-based company is projected to report second quarter results on Tuesday, September 8 after the closing bell. Consensus estimates call for the workplace messaging platform to post a loss of $0.03 per share, narrowing from a loss of $0.14 per share in the same period a year earlier.
Revenue, meanwhile, is forecast to rise 44.2% year-over-year to $209.08 million, amid strong demand for its workplace collaboration software which has been benefiting from the widespread shift to remote-work amid coronavirus. While this figure may seem impressive, if confirmed, it would still mark the slowest sales growth for the company as a publicly-traded firm.
Beyond EPS and revenue, market participants will scrutinize the company's update regarding its outlook for the rest of the year and beyond. Slack guided for full-year fiscal 2021 revenue to be between $855 million and $870 million in its last quarter, representing a growth rate of 38% at the top end of the range.
In addition, Wall Street will be closely watching billings growth, an important sales metric, which climbed 38% from the year-ago period to $206 million in the preceding quarter. Analysts are expecting $232.9 million in billings for the current quarter.
Perhaps of greater interest: Slack's update regarding its total paying customers amid concerns over slowing user growth. Wall Street is looking for the workplace messaging app to add about 6,000 new paid customers, sharply decelerating from a quarterly record of 12,000 net new adds in the first three months of the year. As of the end of the first quarter, the company had 122,000 paying customers.
Investors will also be hoping to hear further details regarding the ongoing rift with Microsoft (NASDAQ:), whose Teams platform competes directly with Slack's chat software. In July, Slack filed a lawsuit with the European Commission accusing Microsoft of anticompetitive behavior.