Reports Q2 results on Wednesday, Apr. 28, after the market close
Revenue Expectation: $76.71 billion
EPS Expectation: $0.983
This time, there isn't much excitement ahead of Apple's (NASDAQ:) latest earnings report. Its stock has been underperforming and there are doubts that the company will be able to beat expectations as signs indicate the blistering demand for its flagship iPhone is decelerating in China, the company's second biggest market.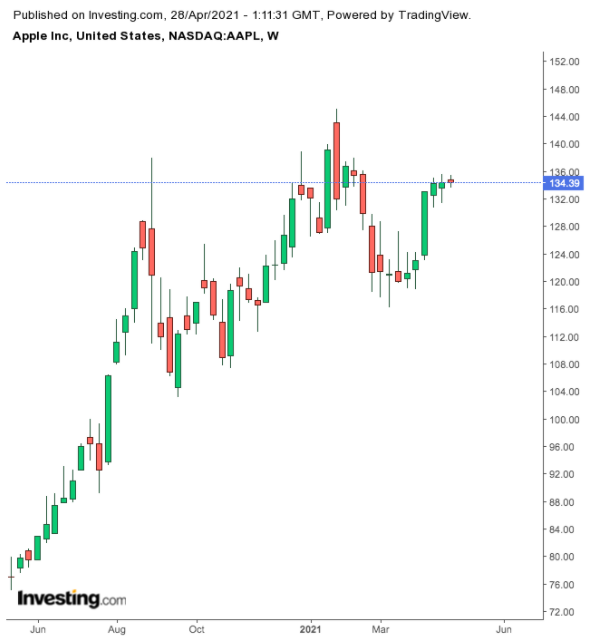 Apple Weekly Chart.
After surging more than 75% in 2020, shares are up just over 1% this year. By comparison, the tech-heavy rose more than 9% during the same period. This cautious phase for the world's most-valued company comes after a period of very impressive sales growth, helped by new product launches, including the iPhone 12.
sales for the period that ended Dec. 26 crossed $100 billion for the first time, amid expectations of a new iPhone "super cycle," where millions of existing users would upgrade aging smartphones. The latest iPhone has the capability of accessing the next-generation 5G cellular network, which promises faster internet speeds. In the last quarter of 2020, the new iPhone helped sales rise 57% in China, which has a more developed 5G network.
The company also recently introduced other new devices, including an updated Apple Watch, while demand increased for iPads, Mac computers and services from consumers working and studying from home during the coronavirus pandemic.
In a recent note, JPMorgan analyst Samik Chatterjee wrote:
"The set-up into the upcoming earnings print is dramatically different from the last one with the focus on near-term earning drivers having significantly moderated post the peak holiday sales quarter."
He also raised concerns about a softening of iPhone sales in China.
iPad, Mac Demand Surge Unsustainable
Analysts at Goldman Sachs are also cautious ahead of the earnings report.
Said the bank's analyst Rod Hall:
"In our opinion, current high levels of both iPad and Mac demand are unlikely to be sustainable as the world reopens, so another beat driven more by these areas may not be enough to drive the shares further."
Despite this short-term uncertainty, Apple's stock continues to remain a top recommendation due to the company's very attractive product mix, its innovation capabilities and its expanding services business.
Of the 27 analysts covering the stock, according to TipRanks, 21 have given it a buy rating, with a 12-month price target of $151.35. That's a more-than-11% jump from the stock's closing price on Tuesday of $134.39. The basis for this bullish consensus? The company is well-positioned to continue with its growth momentum as the economy accelerates and consumers upgrade their devices.
The company's innovation drive will play a key role in this new growth cycle. Apple is working on a product that would combine an Apple TV set-top box with a HomePod speaker and include a camera for video conferencing through a connected TV and other smart-home functions, Bloomberg reported this month.
According to the report:
"The device's other capabilities would include standard Apple TV box functions, like watching video and gaming, plus smart speaker uses, such as playing music and using Apple's Siri digital assistant. If launched, it would represent Apple's most ambitious smart-home hardware offering to date."
For long-term investors, whose objective is to earn a decent return through dividends and capital appreciation, Apple is also a great stock choice. With $196 billion in cash on hand, the Cupertino, California-based company is in an enviable position to further increase its share repurchase program in order to support its stock.
With share buybacks, the value of one's Apple holdings would improve, since there will be fewer shares outstanding and a higher proportion of earnings being distributed among a smaller number of stakeholders.
Bottom Line
Expectations for another strong beat are low going into today's earnings release, on signs that demand for Apple products is slowing. That said, analysts continue to remain bullish on the stock's long-term appeal based on its innovation capabilities, post-pandemic demand and its robust capital-return program.