Tesla (NASDAQ:) is again in a deep bearish spell. Shares of the electric car-maker have shed 27% during the past three months, massively underperforming the high-growth technology stocks. 
After reaching a record high of $900.40 on Jan. 27, the stock closed Thursday at $571.69, down about 36%. During the same period, the tech-heavy fell 3%.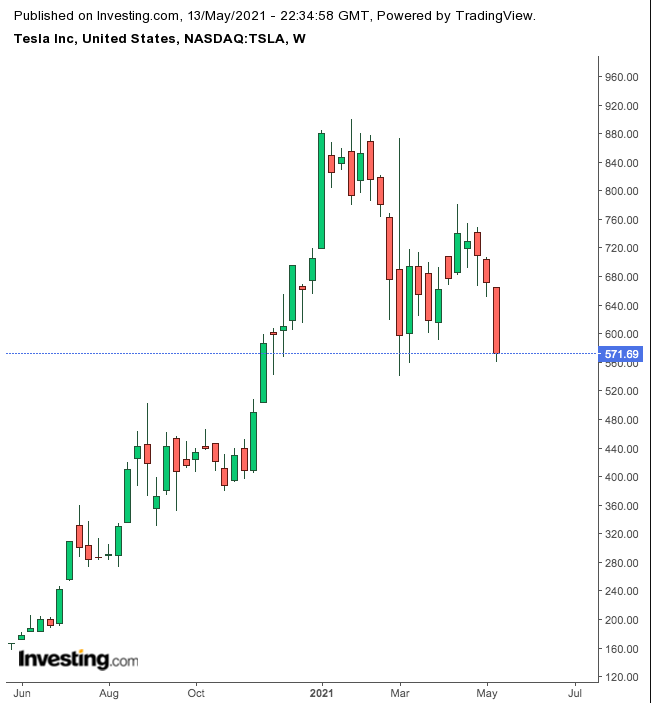 This volatile trading is not a new phenomenon for investors. During the past five years, Tesla has produced many boom-and-bust cycles that burned some investors badly. The latest weakness comes after a period of meteoric rise in 2020 that sent it shares soaring more than 700%. 
For investors on the sidelines, the big question is whether this sell-off offers an opportunity to buy Tesla. Or, is it the beginning of a much deeper correction? In the short-run, our suggestion is to stay on the sidelines, as there isn't much out there that could create further excitement around this name.
The latest evidence that Tesla is lacking short-term positive catalysts came from the company's that didn't offer much insight into 2021 sale volumes. Tesla reiterated that it expects 50% annual growth in deliveries "over a multi-year horizon." That implies deliveries of about 750,000 cars this year. The unchanged guidance wasn't encouraging for some analysts and investors who had hoped for more detail after a blowout first-quarter sales numbers. 
The latest sales data from China, the company's second-biggest market, have also added to uncertainty about Tesla's outlook this year. Sales of Tesla's locally made cars in China dropped to 25,845 in April, down from 35,478 units in March, according to data from China's Passenger Car Association released Tuesday. Of those April sales, 14,174 EVs were exported, due, in part, to demand from the European market.
Chip Shortages
In addition to this weakening demand in China, global car-makers are also facing supply shortages of chips. Though that issue isn't unique to Tesla, it's significant enough to hurt its year-end production goals. Tesla's CEO Elon Musk told analysts last month that he expects chip shortages to continue to impact the company in the second and third quarters.
Along with this changing backdrop for growth, comes Musk's u-turn. The company's chief executive doesn't spare a moment to divert investors' attention from Tesla's core business of making and selling cars. His surprise decision to suspend accepting for Tesla vehicle purchases is the latest setback to his credibility.
In a post on Twitter (NYSE:) on Wednesday, Musk cited concerns about "rapidly increasing use of fossil fuels for Bitcoin mining and transactions," for his reversal, which came after his active involvement in recent months to promote digital currencies. 
Wedbush's Dan Ives, who has an outperform rating on Tesla, said in a note that the move was a "shocker" and could increase volatility for the electric vehicle stock.
In a note to clients Ives wrote:
"Musk is now concerned about the use of fossil fuels in Bitcoin mining and transactions, yet the nature of Bitcoin mining has not changed in the last three months, which speaks to why backtracking on the crypto transaction three months later is a very surprising and confusing move to both Tesla and crypto investors," Ives said. 
Bottom Line
Tesla stock is more vulnerable in the group of mega tech stocks at a time when investors are avoiding growth stocks on worries related to and the future interest-rate outlook. We believe this is not a good time to buy Tesla stock as this pullback has more room to run.