It's hard to sit on the sidelines when the relentless rally in meme stocks continues, enriching millions of individual investors. The latest example of this retail frenzy is AMC Entertainment (NYSE:). 
The shares of the money-losing movie-theater chain, which was on the brink of bankruptcy a few months ago, had gained 3,000% year-to-date by the closing bell on Wednesday after doubling in a single trading session. With a market valuation of more than $30 billion, AMC is more valuable than at least half of the companies in the .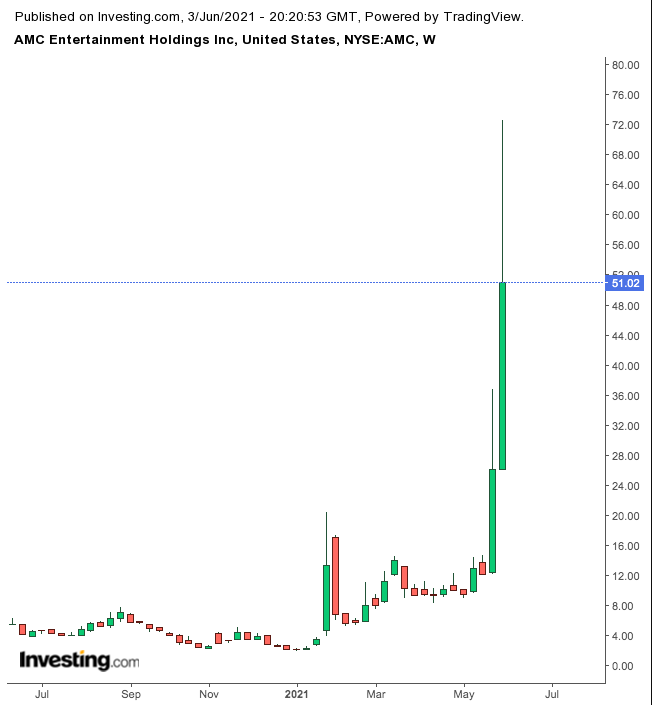 Once again, fuelling this rally are individual investors who group together on social media channels, like Reddit's WallStreetBets forum and Discord chat rooms, predicting more gains ahead.
The retail frenzy to buy meme stocks first started in January, when millions of internet-savvy investors began to bid up stocks that were shorted by hedge funds. An abundance of liquidity, historically low interest rates and savings created during the pandemic played a big role in fueling this trend.
As this type of speculative trading becomes more popular, it's important for investors to understand that investing in meme stocks is a high-stakes game in which the chances of getting badly burnt are quite high. 
AMC stock was trading 30% lower on Thursday morning after the company announced a plan to sell more than 11 million shares to take advantage of the retail interest and bolster its finances. In the sale announcement, the company also warned that investors should be prepared to lose all of their money.
According to the statement:
"We believe that the recent volatility and our current market prices reflect market and trading dynamics unrelated to our underlying business, or macro or industry fundamentals, and we do not know how long these dynamics will last."

"Under the circumstances, we caution you against investing in our Class A common stock, unless you are prepared to incur the risk of losing all or a substantial portion of your investment."
Chasing Asset Bubbles
Analysts on Wall Street are also warning that if you don't have money you can afford to lose, you should stay clear of meme trending stocks because spikes are mostly followed by steep losses.
In a Bloomberg report, Joachim Klement, a strategist at Liberum, said many studies have shown that retail traders can distort prices for a short while, but they, on average, lose money doing that. According to him:
"Institutional investors should ignore these meme stocks and wait until the share price has settled down. Like in every bubble, the retail investors will eventually run out of people who are willing to buy into the hype, at which point the bubble bursts and the last ones holding the bag will have to nurse their losses."

"AMC and other meme stocks are a case of people trying to find a sucker to buy into the hype who will take your overvalued stocks from you. Don't be that sucker."
Bottom Line
As long as interest rates are low and the cheap money is in abundance, this meme mania will continue. But if you invest based on fundamentals, this market noise shouldn't divert your attention. Investing is all about managing your risk. Just buying one or two stocks whose fate is closely tied with speculative calls is a sure recipe for disaster. Seasoned investors diligently work to diversify their portfolios by not overextending in a few stocks.