With US major indices trading at record-high levels, the upcoming week will be mostly about earnings, as some of the nation's largest companies release their latest quarterly numbers. 
Earnings estimates for the just-completed quarter were up 7.3% from the start of April to $45.03 a share for the members of the Index heading into this past week, according to data compiled by FactSet. 
Despite the upbeat sentiment in the market, the spread of a highly contagious coronavirus variant, and the possibility of the Federal Reserve cutting back on its monetary stimulus, are some of the risks that could thwart the ongoing rally in equities. 
Below, we've short-listed three stocks from different sectors which we're monitoring as the Q2 earnings season begins:
1. JPMorgan Chase
Global lender JPMorgan Chase (NYSE:) will report its second-quarter earnings on Tuesday, July 13, before the market open. Analysts expect the Wall Street powerhouse to report $3.16 a share profit on sales of $29.96 billion.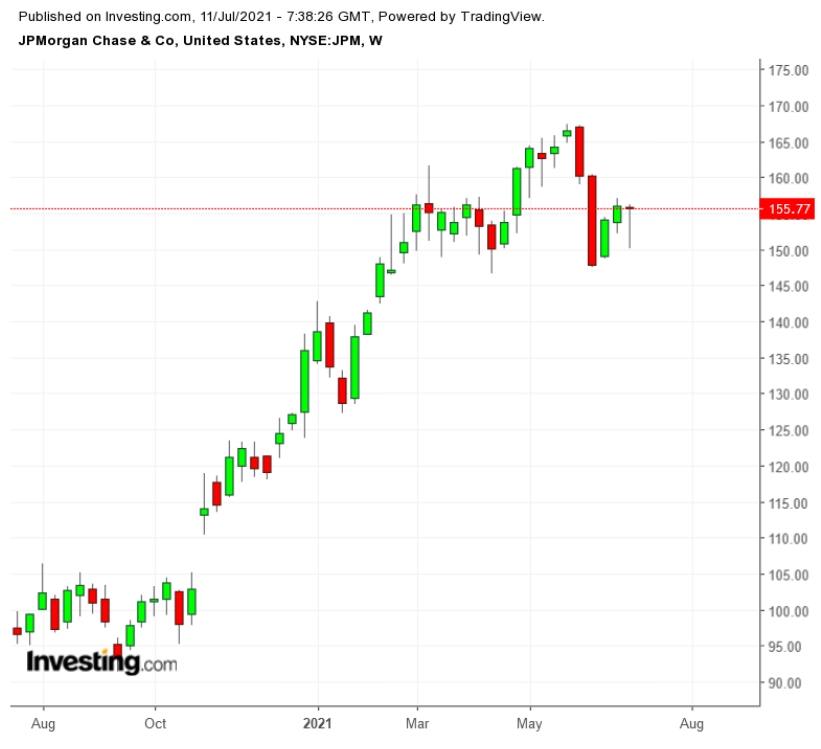 The international investment bank is emerging much stronger after the caused by the global pandemic, helped by its trading division and fees from its corporate and investment banking groups. JPMorgan Q2 earnings come after the Federal Reserve gave the U.S.'s largest banks a clean bill of health last month, paving the way for the lenders to boost their payouts to investors after June 30.
In a vote of confidence for the banks, including JPM and Goldman Sachs Group (NYSE:), the Fed said last month it would end temporary limits on dividend payments and share buybacks after all 23 firms performed well in annual stress tests. 
JPM stock closed on Friday at $155.77, after rallying strongly so far this year. Shares are up 22% in 2021, handily beating the S&P 500's 16% expansion. 
2. PepsiCo
Snack and beverage giant PepsiCo (NASDAQ:) will also report the company's fiscal 2021, Q2 earnings on Tuesday before the market opens. Analysts, on average, expect $1.53 a share profit on sales of $17.97 billion.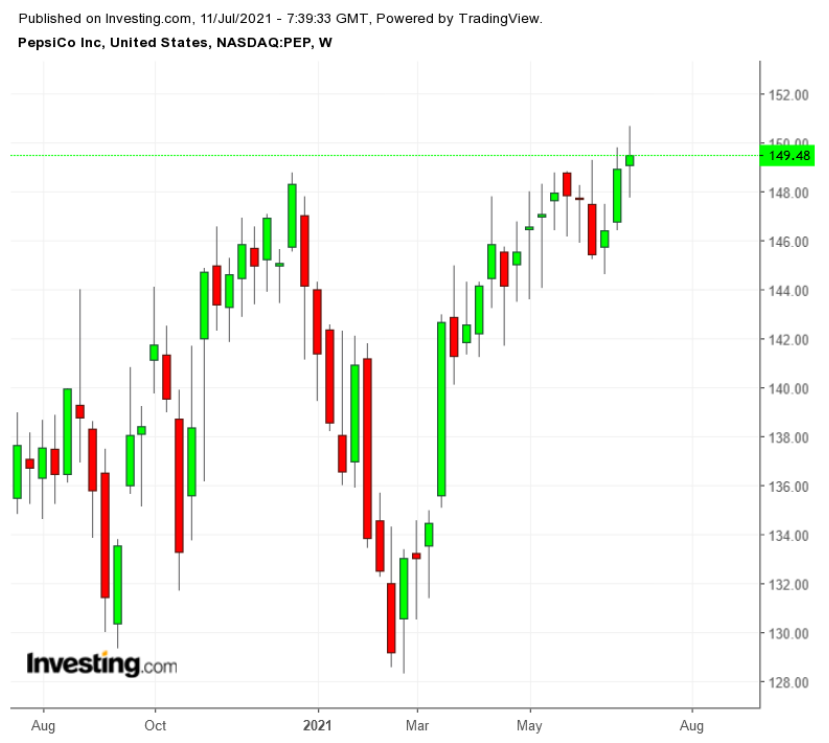 During the pandemic, PEP from locked-down consumers stocking up on snack foods and beverages, helped by its diversified portfolio of snack brands, such as Tostitos, Fritos, Ruffles, and Cheetos.
In April, the company had reiterated its 2021 forecast, which expects mid-single-digit organic revenue growth and high-single-digit constant currency earnings per share. Pepsi is predicting strong sales from its North American beverages unit as more consumers visit restaurants and movie theaters, but demand for Quaker Foods products will likely moderate. 
PEP stock closed on Friday at $149.48, up about 5% in the past three months.
3. Delta Air Lines
Delta Air Lines (NYSE:) will report Q2 earnings on Wednesday, July 14, before the market open. On average, analysts are expecting a loss of $1.36 a share on sales of $6.14 billion.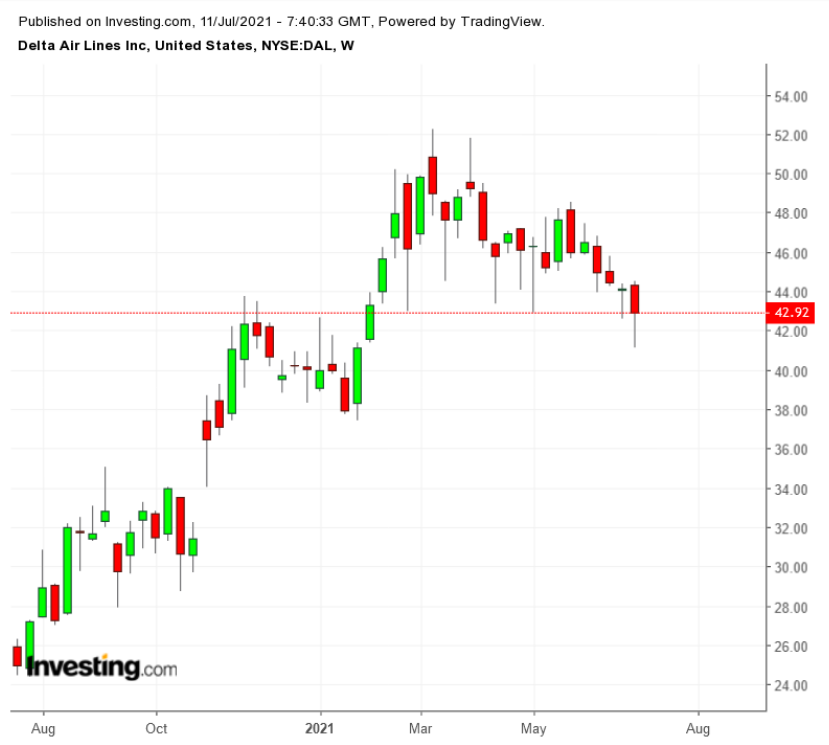 The global airline industry is trying to stage a comeback after a in which air traffic plunged amid surging COVID-19 infections. Domestic air travel in the US is rebounding with the acceleration of coronavirus vaccine rollouts.
On a webcast last month, Delta Air Chief Executive Ed Bastian said the carrier would operate twice as many domestic flights in July as in May, but added that business travel, one of the most lucrative segments for carriers, was still very limited.
Shares of Delta closed on Friday at $42.92, after falling 13% in the past three months amid concerns that new variants of the coronavirus will continue to keep some travel segments depressed.