Global equity markets overall are posting gains year to date, with the glaring exception of China, based on a set of US-listed exchange-traded products.
The iShares MSCI China ETF (NASDAQ:) is down 4.1% year to date through yesterday's close (July 12). After surging in the first two months of 2021, MCHI—which targets large- and mid-cap companies available to international investors—suffered a sharp reversal. The recent weakness shows no sign of reversing, based on recent pricing trends.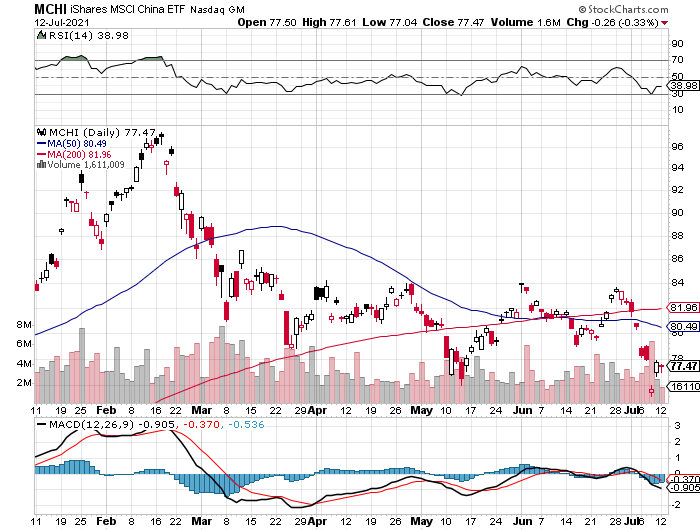 Last month, MCHI's 50-day moving average slipped below its 200-day average for the first time in more than a year. That's a clue for expecting a downside bias to persist for the near term.
MCHI is this year's exception to the rule this year for global equities. The other major regional equity funds on our list are currently posting a range of positive returns, led by US stocks: SPDR® S&P 500 (NYSE:) is up a strong 17.7% so far in 2021.
The weakest positive return is currently reflected in iShares MSCI Japan ETF (NYSE:), which is ahead by a modest 2.3%.
A global equities benchmark—Vanguard Total World Stock Index Fund ETF Shares (NYSE:)—is higher by 14.0% year to date.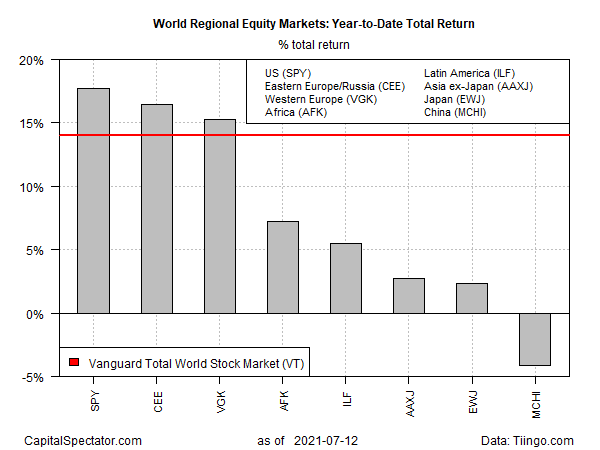 Weighing on China shares is a change in investor sentiment, triggered by the growing awareness of Beijing's regulatory crackdown on portions of its tech sector. The shift is convincing some analysts to take a more cautious outlook on the country's equity market overall.
The tipping point came last fall, when China regulators derailed the initial public offering of Ant Group, one of the country's largest internet firms. Earlier this month, Beijing ordered Didi Global's app to be removed from mobile stores over concerns about data—an announcement that took a bite out of the company's share price.
"The regulatory strong hand has deterred investors from investing in Chinese stocks," advises Jack Siu, chief investment officer for Greater China at Credit Suisse. "A major topic of discussion among the investor community is when the regulatory pressures will ease. The earliest is likely to be the last quarter, but it could extend to the first half of 2022. It is not going away soon."
CNBC reports that Morgan Stanley, an investment bank, has reaffirmed a recommendation to downgrade China stocks to a neutral outlook and so the country's shares are expected to perform in line with emerging markets generally.
"What we are seeing, I think, is that the anti-trust regulation is proving sort of much deeper and more long lasting than we had thought," says Jonathan Garner, chief Asia and emerging market equity strategist at Morgan Stanley.
The weakness in China shares may offer a buying opportunity, but there are risks to consider, says Arthur Kroeber, head of research at Gavekal Research, an investment consultancy. "We now know this is a regulatory minefield, and those who expose themselves to the sector are taking on a lot of volatility." He adds that "If your horizon is long term, this is going to be one of the growth stories of the next decade and you have to ride it out. But if you are more short term, you may say it's too complicated and come back in a year when things have calmed down."
Note, however, that some slices of China's equity market continue to deliver strong gains in 2021. Small-cap stocks in the country are still posting solid results year to date. The iShares MSCI China Small-Cap ETF (NYSE:), which targets small-capitalization Chinese equities that are available to international investors, is up 15.9% so far this year.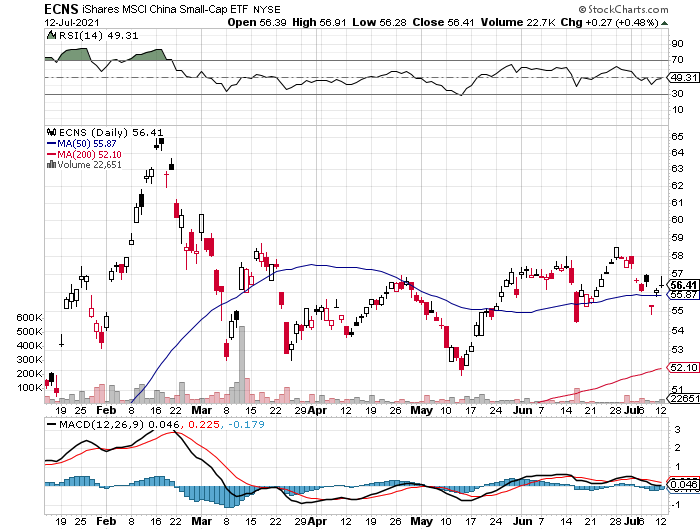 Focusing on China shares that are out of the limelight strikes some investors as a savvy choice in the current environment.
"We position in small- and mid-cap names that are less exposed to the anti-trust risk and are relatively early in their user penetration and growth cycle," said Lucy Liu, a BlackRock portfolio manager, in late-June.
"We will probably stay a little bit away from the large dominant platforms for a little bit longer."