Last month, Investor's Business Daily rated Vertex Pharmaceuticals (NASDAQ:) number four on its list of the best ESG stocks, awarding the company high marks for its environmental, social and governance values and practices.
The site also noted that investing in Vertex wasn't a trade-off for ethics-focused investors looking for stock strength and growth potential. The rating also reflected "broad strength in fundamental and technical areas linked to stock price performance."
The Massachusetts-based biotech specializes in gene-editing therapies for a number of diseases including cystic fibrosis. Bank of America Managing Director Geoff Meacham , targeting a share price of around $275 over the next 12 months, a $75, or 28% increase from its current $198 level over the next 12 months.
The company is slated to release Q2 on Thursday, July 28, after the close. It's forecast to post an EPS of $2.19 on $1.72 billion of revenue.
We're also betting on a $75 move, but in the opposite direction. Our price target points lower, to $125, for an approximate 38% decline in value. That's because, on Vertex's technical chart, the balance of supply and demand is primed for a steep decline.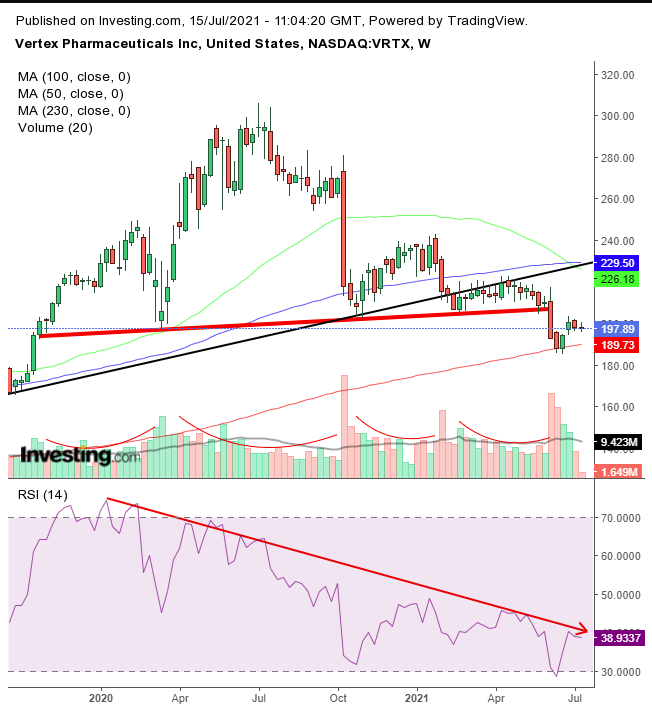 During the first week of June the stock completed a massive, 19-month long H&S top, in play from November 2019 to May 2021.
The volume activity supports the reversal from buying to selling, as illustrated by the falling volume on the RSI within each rise in the price amid the H&S top, as well as the spike in volume with each drop—a sign of where the force was.
We see the same negative divergence via the falling price momentum during June and July, revealing the weakness in the pattern's head, before forming the right shoulder and providing a downside breakout.
The price found what we expect to be its last support by the 200-week MA, while the 50-week MA already crossed below its 100-weekly counterpart, threatening a Death Cross when it will fall below the 200-week MA.
Trading Strategies
Conservative traders should wait on the possibility that the price will return all the way to the neckline and verify resistance, or close below the 200-week MA, which it will then retest from below.
Moderate traders could wait for the same trading pattern, but for a closer entry, not necessarily for further confirmation.
Aggressive traders may enter at will, provided they do so with the understanding and acceptance of the risks and according to a trading plan to which they are committed. Here's an example:
Trade Sample
Entry: $200
Stop-Loss: $205
Risk: $5
Target: $125
Reward: $75
Risk:Reward Ratio: 1:15