Reports Q3 2021 results on Tuesday, July 27, after the market close
Revenue Expectation: $73.26 billion
EPS Expectation: $1.01
When Apple (NASDAQ:) reports its latest earnings later today, investors are confident the iPhone-maker will again exceed expectations and produce another .
In anticipation, its stock has reached new highs after a sluggish start to 2021. Shares closed yesterday at $148.99, after a 15% jump year-to-date. Since the March dip in 2020, Apple shares have delivered more than 150% return to investors.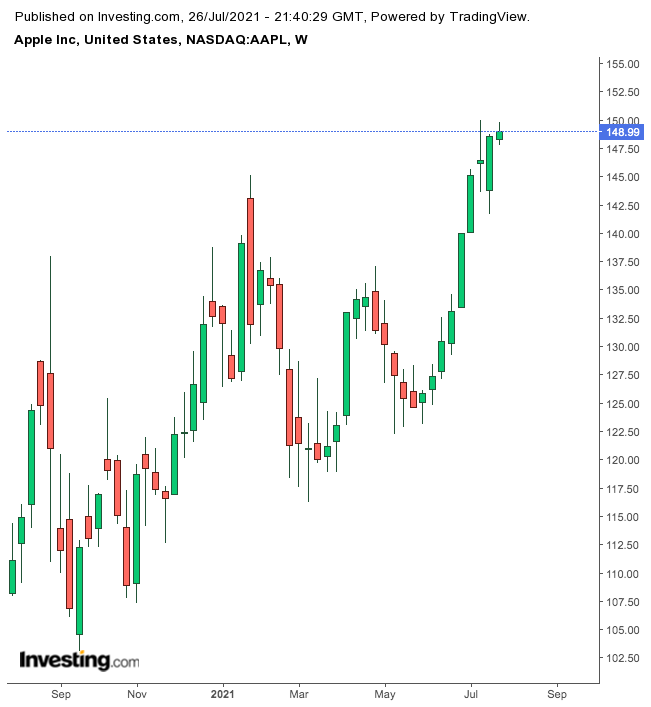 What's keeping that rally alive are signs that demand for the California-based tech giant's flagship smartphones continues to remain strong. Bloomberg reported earlier this month that Apple had asked suppliers to build as many as 90 million next-generation iPhones this year, a sharp increase from its 2020 smartphone shipments.
The company has maintained a consistent level in recent years of roughly 75 million units for the initial run for the launch of a new device through the end of the year. The upgraded forecast for 2021, according to the report, would suggest the company anticipates its first iPhone launch since the rollout of COVID-19 vaccines will unlock additional demand. The next generation of iPhones will be Apple's second with 5G capabilities, a key enticement pushing users to upgrade.
If that happens, it will further strengthen a bullish case for Apple stock that has been built on expectations that the company is entering another "super cycle," for its new iPhone models, where millions of existing users would upgrade aging smartphones. The latest iPhone has the capability of accessing the next-generation 5G cellular network, which promises faster internet speeds.
Apple's Innovation Machine
For Apple revenue to continue growing, it's critical to keep its innovation machine active, by introducing new gadgets and upgrades to its existing products. Indeed, the latest information from the company, as well as media sources, suggests the company has many exciting upgrades in the works.
Apple is planning to launch new MacBook Pro laptops with custom Apple chips, Apple Watches with updated display, a redesigned iPad mini and an entry-tier iPad.
Despite this optimism, some in the analyst community remain conservative in their consensus estimates for the company's fiscal third-quarter earnings release later today. The Street is calling for revenue of $73.26 billion and EPS of $1.01.
Morgan Stanley analyst Katy Huberty, in a recent note, raised her price target for Apple heading into the company's fiscal third-quarter earnings report, saying the recent jump for the stock has not fully priced in a strong iPhone launch later in the year.
Said Huberty:
"While share price performance post-earnings may be more muted given Apple's recent outperformance, we are buyers heading into the iPhone 13 launch in September."
Her new price target for Apple stock is $166 per share, representing an 11% upside from the current level.
Bottom Line
Apple earnings may continue to benefit from strong demand for its new iPhone models and other upgrades the company is planning for its popular products. Apple shares could move higher if the company exceeds expectations, especially when the consensus estimates remain quite conservative.