Started as an online bookseller in 1995 inside Jeff Bezos' Bellvue, Washington garage, Amazon (NASDAQ:) has morphed into an online retail behemoth. It's surpassed Walmart (NYSE:) as the most valuable retailer in the US by market cap. 
Currently, the company is the world's largest online marketplace, having used technological innovation to aggressively conquer or become a major player in entire industry segments including retail, live-streaming entertainment and cloud computing. During the COVID pandemic, Amazon was in the unique position of being able to provide Americans sheltering in place and under lockdown with just about all the shopping and entertainment needs they were able to consume.
At the same time, Amazon has also staked a strong claime in the cloud space. Amazon Web Servicees expanded at a heart stopping 40% just .
The company is scheduled to report earnings on Thursday, July 29, after market close. Analyst consensus is calling for EPS to come in at $12.24, 18% above the same metric for the year ago quarter, which at that time blew past expectations almost 7 times over.
But as normal life comes back, will Amazon be able to keep up this dizzying pace of growth? Though the e-tailer does seem like a juggernaut, we also expect that as the economy restarts, homebound consumers will shift their spending into the physical world, a form of entertainment many consumers sorely missed.
On the other hand, the Delta variant is hampering the reopening of world economies, a possible reason Amazon's stock may keep whipsawing. Still, though the stock remains on an upward trajectory, at least for now, we recognize the potential for a pullback.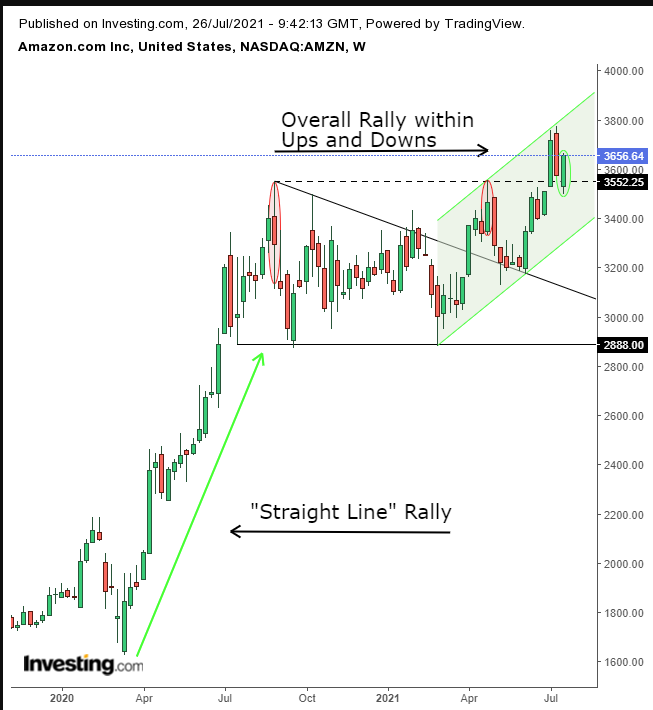 In early April, the stock overcame a bearish pattern, demonstrating a shift between the outlook for a pre-pandemic economy and continued lockdown pressures—the optimum environment that keeps consumers at their computers, buying products and logging into entertainment to cheer themselves up.
That pattern was 11 months long. When a structure fails, it undergoes a forced reversal, a catalyst for momentum, primed to fly for a bit before it stops.
The price formed a rising channel, the path with which traders hit all-time highs. After the stock found resistance at the top of the channel 2 weeks ago, the stock rebounded last week, erasing half of the previous week's losses. Perhaps, when bulls pushed prices above the top of the triangle, it became a new support, which we can see first as a resistance, when the price peaked above that level on Apr. 26, and was forced to close the week considerably lower, forming a long upper shadow.
Trading Strategies
Conservative traders should wait for the stock to fall back to the bottom of the rising channel, demonstrating ongoing support.
Moderate traders would wait for the same decline, for an entry close to support, not necessarily for confirmation of trend.
Aggressive traders may short upon evidence of resistance at the $3,750 levels, the all-time highs, before joining the rest of the market with the uptrend.
Note: Trading is nothing more than "luck management." Professional traders don't have the illusion that anyone knows what is going to happen on a trade-by-trade basis. Rather, they attempt to get onto the side of statistics, knowing each time that the trade may lose. The above is our interpretation of technical analysis. We could be wrong, but even if we're right, it doesn't mean that what tended to happen in the past, will necessarily occur again today. And, even if it will, the way you manage your trade could be the difference between a win and a loss.
Therefore, a coherent overall trading strategy and tight trading plans are crucial for trading success. You must develop your own style that agrees with your budget, temperament and of course timing. We will provide you with trade samples, so that you can learn from them as a way toward developing your own. Don't expect them to necessarily win, or you'll fail at trading and blame us, the market and everyone else, except your own lack of experience and responsibility.
Trade Sample: Aggressive – Short
Entry: $3,700
Stop-Loss: $3,775
Risk: $75
Target: $3,400
Reward: $300
Risk:Reward Ratio: 1:4