Reports Q2 FY2022 results on Wednesday, Aug. 18, after the close
Revenue expectation: $6.32 billion
EPS expectation: $1.02
When NVIDIA (NASDAQ:) reports its latest earnings later today, the largest chip-maker by market value in the U.S. could show its continues despite industry-wide shortages and supply disruptions due to the pandemic.
This upbeat outlook is fueling additional gains in the company's shares, which have surged 49% this year—adding to the stock's 380% rally since the advent of the pandemic. Shares closed on Tuesday at $194.58.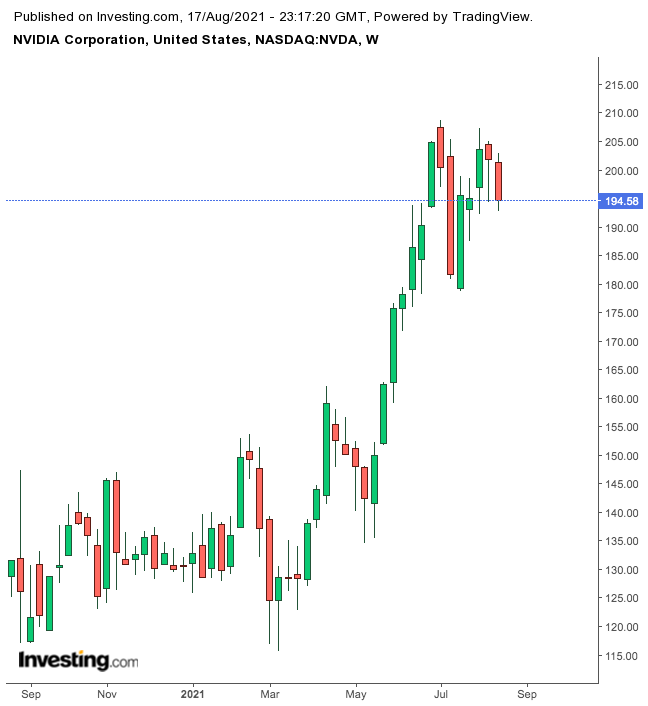 Nvidia Weekly Chart.
The California-based NVIDIA is a provider of the key components required for all the sector's large, high-growth technologies, including cloud computing, artificial intelligence, robotic automation, mobile computing and the internet of things.
The industry-wide chip shortage has caused prices to rise for some products, while creating delays in filling orders for others. Behind this shift—from a robust growth scenario to supply constraints—is the pandemic-triggered demand for everything, including cell phones, laptops, cloud computing and gaming consoles.
NVDA's Chief Executive Officer Jensen Huang told investors in May that demand from data centers, gamers and crypto miners continues to remain strong, and the company faces few hurdles to fulfill these orders. The company's sales in the quarter that ended June 30 are expected to grow 39% to $6.32 billion, according to analysts' consensus forecast.
$250 Price Target
Cloud providers, like Google (NASDAQ:) and Amazon (NASDAQ:), use NVIDIA graphics chips to help power some of their most widely used services on the internet. The chip-maker continues to see demand for PC gaming gear from consumers in a stay-at-home environment because of the pandemic.
NVIDIA's graphics chips are also important components in machines that run the mining needed to create Bitcoins and other cryptocurrencies. A $400-million chunk of second-quarter revenue will come from special chips NVIDIA has developed for use by cryptocurrency miners.
Analysts at Rosenblatt Securities, who raised their price target on shares of NVIDIA to $250 from $200, said this month the company is a "best-in-class" artificial intelligence play.
Their note said:
"We are taking our price target for Buy rated NVDA to $250 from $200 based on earnings power over $6.00 for FY24 (calendar 2023) on best-in-class AI play with growth vectors into next generation networking/DPU (data processing unit) adoption and early-days of autonomous driving software kicker."
Analysts polled by Investing.com have a similar view on the stock.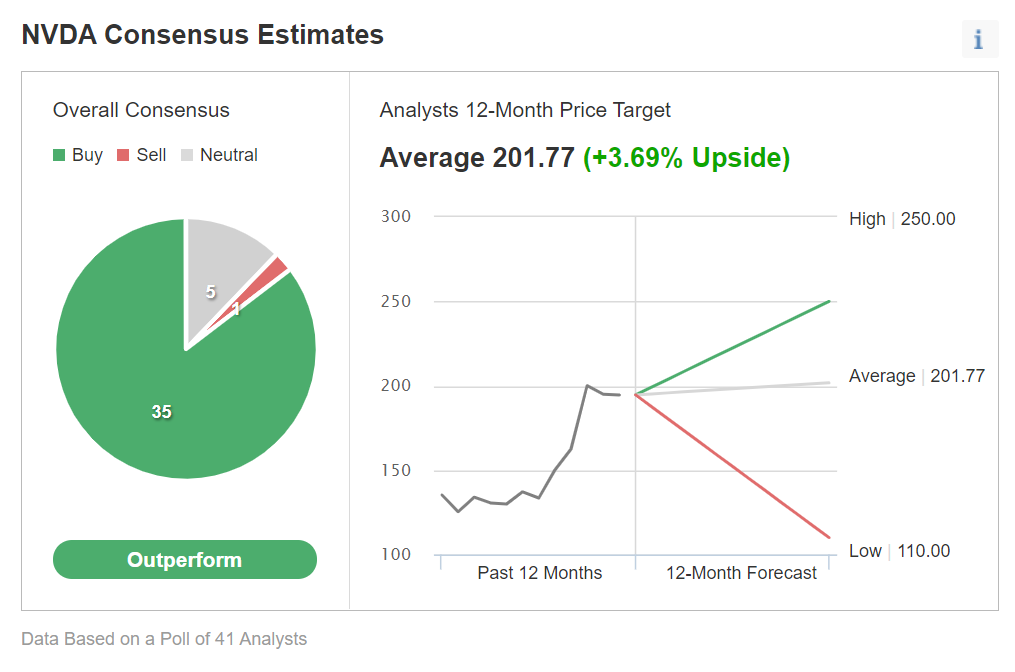 Chart: Investing.com
Of 41 respondents, the majority expect the stock to outperform in the next 12 months.
BMO Capital Markets, while also raising its outlook on the stock, said in a recent note that there is more upside for NVDA, generated by growth in its data center business.
It said in a note:
"As we look further out to the company's data center business, we now see the business growing to a $32-billion business a few years out vs. our prior expectation of $25 billion."
Bottom Line
NVIDIA continues to remain one of the most liked names in the chip industry due to its expanding share in data center and gaming segments. Today's earnings could provide further evidence that this growth has more room to run.