Tilray (NASDAQ:), now the biggest cannabis company in the world is currently also offering up stellar performances.
In the last year, after being bought by Canadian-based Aphria (NASDAQ:), the newly merged company took on the Tilray name. The stock hit some impressive highs in March of this year, losing some ground since then.
But if you compare its performance since August of 2020, Tilray has performed well. In fact, it has provided returns on a percentage basis that outpace some of the big names in the tech world, like Tesla (NASDAQ:) and Facebook (NASDAQ:).
In the last year, Tilray stock has more than doubled, gaining just over 103%.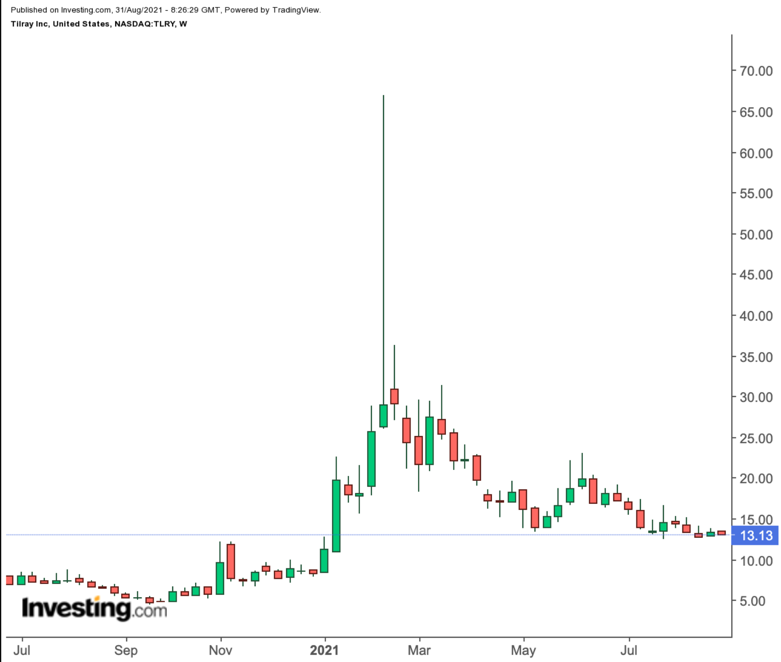 As for Tesla, its shares are up about 60%, while Facebook is up about 27%.
Yesterday, Tilray closed at $13.13 on the NASDAQ, down just over 2% on the day.
At the end of last month, when Tilray reported its latest for the three-month period that ended May 31, it posted a net income of C$33.6 million (US$26.7 million) while earnings before interest, taxes, depreciation and amortization came close to quadrupling to C$12.3 million (US$9.77 million). This was the first quarterly earnings report since Tilray and Aphria merged.
The biggest revenue generator for Tilray is its medical cannabis, which sets it apart from most of the other big players in the sector that focus on the recreational weed. Its results are also bolstering support for a return to the bigger-is-better school of thought for how cannabis companies can grow and succeed.
What Happens In Vegas ….
One cannabis stock that is making a few waves is Planet 13 Holdings (OTC:). Its latest earnings , released last week, posted some stellar numbers—tripling its revenue for the second quarter to $32.8 million.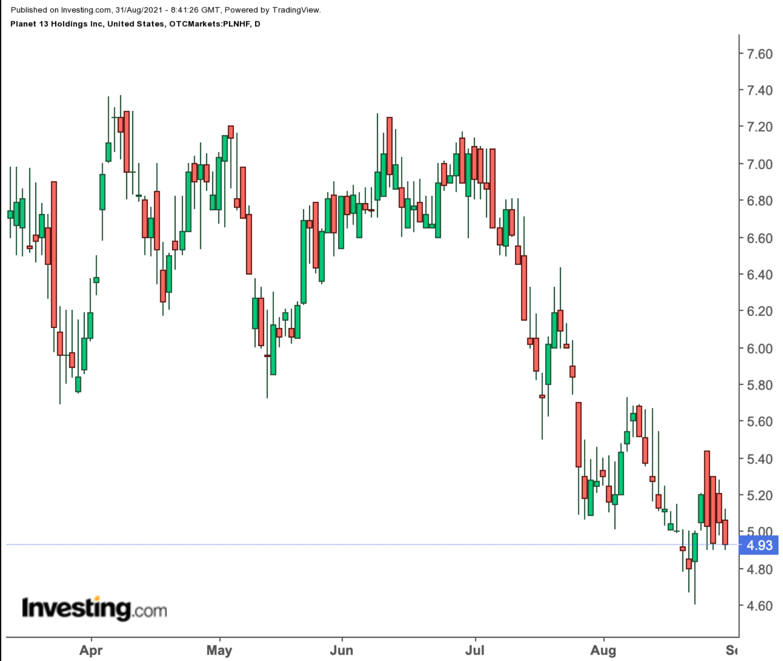 The Nevada-based company, perhaps best known for its wildly popular retail outlet in Las Vegas, proved what a difference reopening the economy and a return to tourism travel can have on its bottom line.
"Q2 was a strong quarter for Planet 13. With tourism back, the Superstore's in-store experience is once again proving that it is on the list of must visit destinations for any trip to Vegas," said company CEO Larry Scheffler in a statement.
But the company is not just banking on the tried and true. It opened a new outlet of its SuperStore in California and plans to open another later this year in the Chicago area.
The question now is: Can what happens in Vegas be reproduced elsewhere?
Shares of Planet 13 spiked immediately after the earnings report was unveiled on Aug. 26, hitting $5.12. Those gains have since been walked back though. The stock closed yesterday at $4.93, down 2.35% on the day.
However, in the last year Planet 13 has gained almost 49.5%.