This article was written exclusively for Investing.com
Cybersecurity is a hot topic among firms across the sector spectrum. It's also a popular thematic investing play.
The HACK ETF offers investors exposure to the space at a reasonable cost, but its valuation suggests the industry is still richly priced.
The technical chart suggests risks are to the downside, but there is a favorable entry point investors can use to dip their toes into.
Cybersecurity stocks are constantly talked about as a key thematic play. The major ETF tracking the space is the ETFMG Prime Cyber Security ETF (NYSE:).
According to ETFMG, the HACK fund allocates to a portfolio of companies providing cyber security solutions. That includes firms in the hardware, software, and services niches. The fund features an expense ratio of 0.60% and rebalances its holdings each quarter.
Dividend investors won't seek out HACK as it yields just 0.27% as of May 28, 2022.
International Spin on Cybersecurity–But It Does Not Come Cheaply
HACK is 81% comprised of US stocks and has 68 holdings. Which means you also get some foreign exposure.
So far this year, the fund is down more than 20%, about on par with other globally diversified technology funds. Moreover, the current average price-to-earnings ratio of the fund is high at 28.3, according to The Wall Street Journal.
On valuation, I think the industry still has room to see multiple contractions given how the air has been let out of the tech trade since November last year, particularly among small- and mid-caps.
Year-to-Date ETF Performance Heat Map: HACK ETF Down More Than 20%
Source: Finviz
HACK Holdings And CrowdStrike Earnings
Top holdings in HACK include many familiar names for stock traders: BAE Systems (LON:), Akamai (NASDAQ:), Splunk (NASDAQ:), Fortinet (NASDAQ:), Palo Alto Networks (NASDAQ:), and CrowdStrike (NASDAQ:), which at more than 5% is the fund's largest holding.
This is a big week for the Cybersecurity industry. CrowdStrike is confirmed to report its fiscal Q1 2023 earnings this Thursday after the market close, according to Wall Street Horizon. A conference call follows the release. CRWD is expected to report EPS of 0.232 on revenue of 463.88 million. In the it posted both EPS and revenue beat.
Investors should also be aware of possible industry-moving information to be shared at the Berenberg Thematic Software Conference 2022 which takes place in London on Wednesday, June 15.
The Technical Take
Turning to the charts, there is clear resistance in the $50-$52 range on the HACK ETF. It's a sellers' market, in my opinion, and rallies should be used as an opportunity to take profits on tactical longs or establish short positions.
Should HACK close above $52, preferably on a weekly basis, that could change the narrative. There is another layer of resistance near $60—the range lows from the back half of 2021 and the April 2022 peak. As for support, $44 has attracted buyers on several occasions since late 2020.
HACK ETF Below Key Resistance in the $50-$52 Range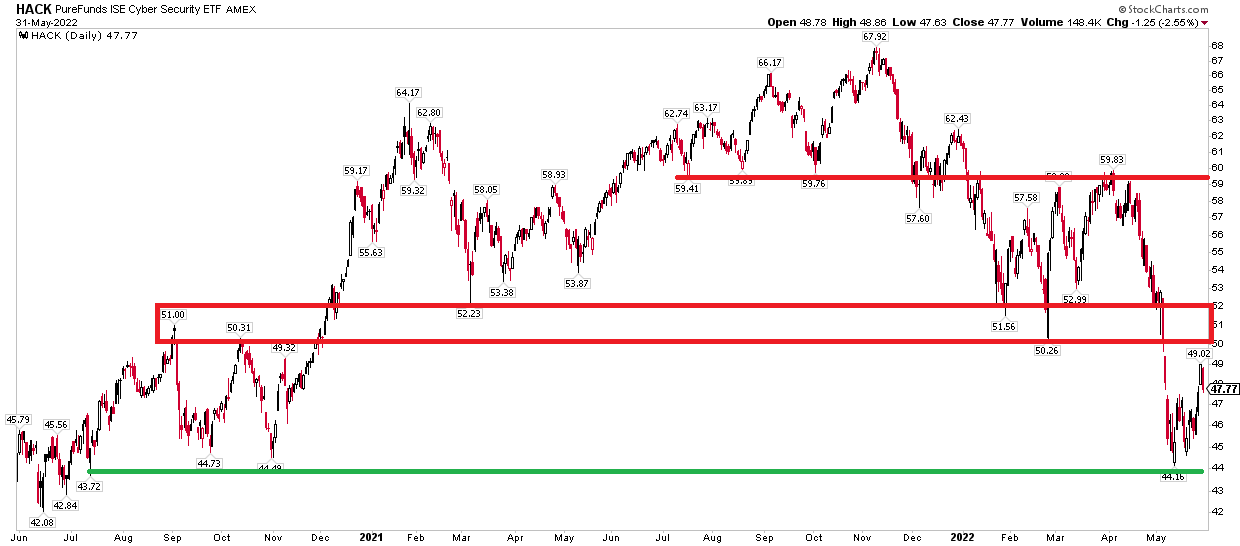 Source: Stockcharts.com
Bottom Line
Cyber security is a popular investment theme. The fundamental need for security and protection in today's technological world is no doubt significant. I urge investors to be cautious about jumping into HACK at these levels. Sellers are in control, but buyers can take a swing on HACK should it dip to support near $44.