The bearish sentiment fueling the current downturn in the US equity markets may intensify in the upcoming week as investors continue to factor into their valuations the risk of a recession.
The posted its 10th down week over the past 11, with no bottom in sight. On Thursday, all 11 SPX sectors closed more than 10% below their recent highs. As well, the fell below 30,000 for the first time since January 2021 last week.
Adding to market pressures: the US Federal Reserve on Wednesday by three-quarters of a percentage point—its biggest hike since 1994. The central bank also warned it will remain on this aggressive tightening path until falls within its range.
This sell-off, which comes after an extended pandemic-triggered buying spree, has hit technology and cyclical stocks hard. Amid this widespread pessimism about the broader economy, here are three stocks that we are eyeing this coming week:
1. FedEx
The world's largest parcel delivery service, FedEx (NYSE:), will report its fiscal 2022 fourth quarter after the market closes on Thursday, June 23. On average, analysts are expecting $6.87 a share profit on sales of $24.49 billion.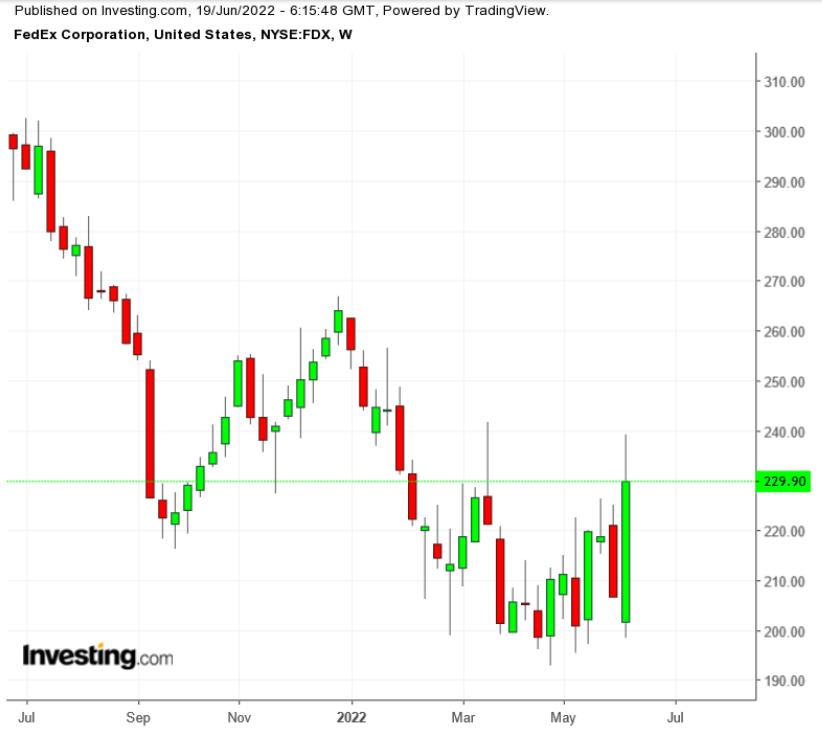 The global freight and logistics giant is trying hard to win investors' confidence amid the current hostile market environment. This month, the company's CEO, Raj Subramaniam, announced a set of improvements designed to create "long-term value for stockholders."
As part of a deal with investment management firm D.E. Shaw, Memphis, Tennessee-based FedEx hiked its quarterly dividend by more than 50% effective mid-July, restructured its board of directors, and promised to cut costs to fight the highest inflation rate in the US in 40 years.
The changes sent shares of the company soaring, +14% over the past week, trimming FDX losses this year. FedEx stock, which is down 11% this year, closed on Friday at $229.90.
2. Coinbase
Shares of Coinbase Global (NASDAQ:), the largest cryptocurrency exchange in the US, may come under renewed selling pressure in the coming week as the ongoing, sharp sell-off in crypto assets intensified over the weekend. , the largest digital currency by market cap, fell below $20,000 on Saturday, for the first since December 2020, and is currently heading even lower, $18,330 at time of publication, as investors continue exiting risky assets.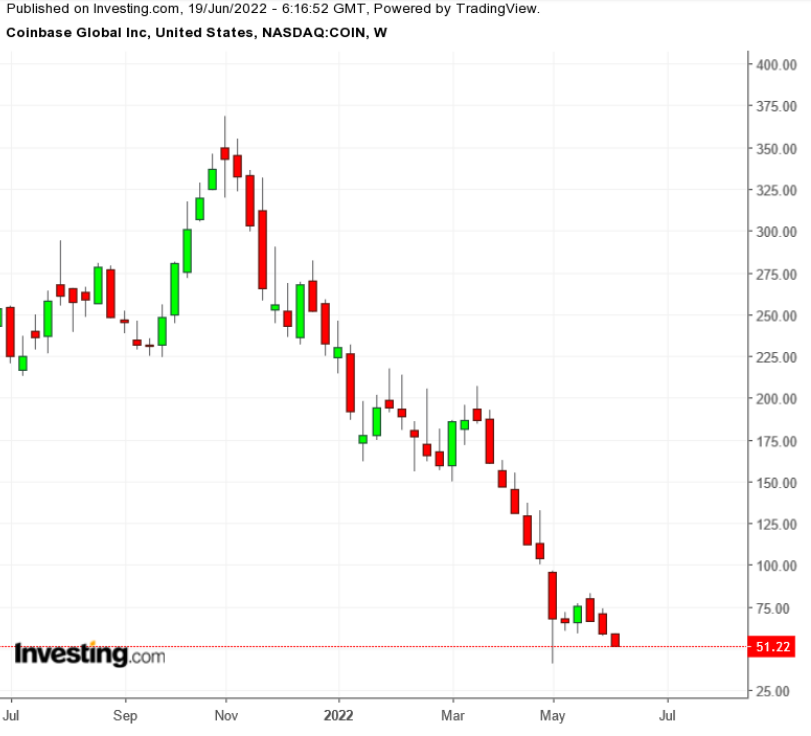 Given the dismal environment for risk assets and digital currencies in particular, Coinbase last week laid off 18% of its workforce following in the footsteps of other cryptocurrency-related businesses that have recently cut staff.
The San Francisco-based exchange last month reported lower-than-expected first-quarter and warned that trading volume and user monthly transactions will be lower in the second quarter.
A in its latest quarterly filing triggered concerns among some users about the safety of their crypto assets held in custody by the company in the event of a bankruptcy. Coinbase stock closed on Friday at $51.22, and is down about 80% this year.
3. Pfizer
US health advisors approved Pfizer's (NYSE:) COVID-19 vaccines for infants and toddlers along with Moderna's (NASDAQ:) offering—a move that could help boost sales of these mRNA-based vaccine producers.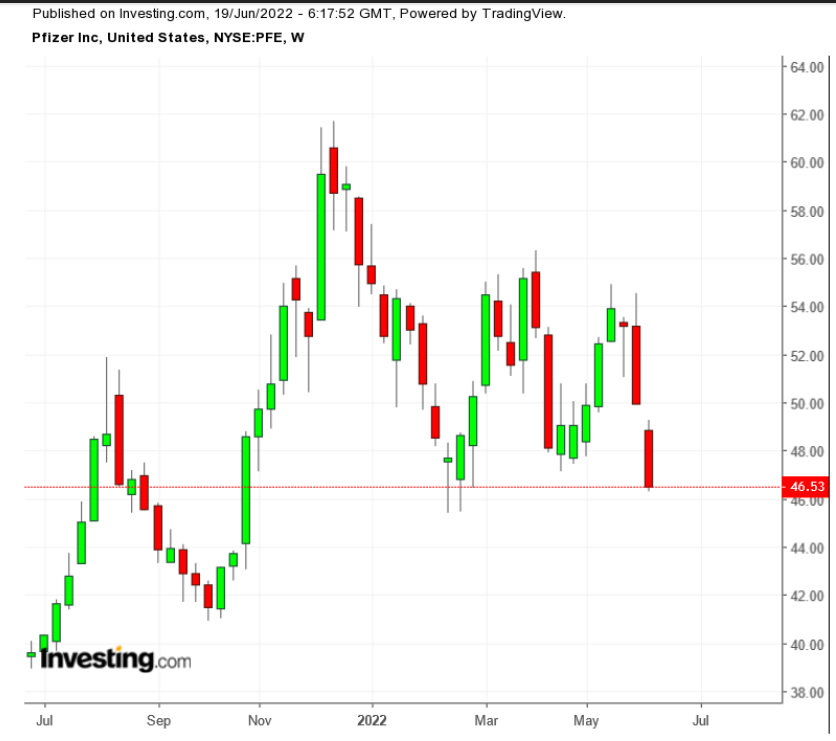 The Advisory Committee on Immunization Practices for the US Centers for Disease Control and Prevention voted 12-0 to recommend Pfizer's three-dose vaccine for youngsters aged six months through four years.
They also voted 12-0 to recommend Moderna's two-dose vaccine for children six months through five years. CDC Director Rochelle Walensky has the final say on making the vote official, which will allow the shots to finally go into arms, Bloomberg reported.
The global pharma giant Pfizer kept its outlook for annual sales of its COVID-19 vaccines and treatment unchanged last month. Through mid-April, Pfizer said it has clinched $32 billion in 2022 contracts for the shot, Comirnaty, and $22 billion for its COVID pill, Paxlovid, the same figures it released three months ago.
PFE shares closed on Friday at $46.53, after shedding about 20% of their value this year.