Shares of the semiconductor giant Advanced Micro Devices have declined roughly 49% so far in 2022
Supply-chain issues, and rising inflation have led to a significant selloff in the semiconductor sector
Long-term investors could consider buying AMD stock at current levels
If you're interested in upgrading your search for new investing ideas, check out InvestingPro+
Advanced Micro Devices (NASDAQ:) is well known for its central processing units (CPU), accelerated processing units (APU) and graphics processing units (GPU). AMD shares are currently down 49.1% so far this year, and they have declined by 22.7% over the past 12 months.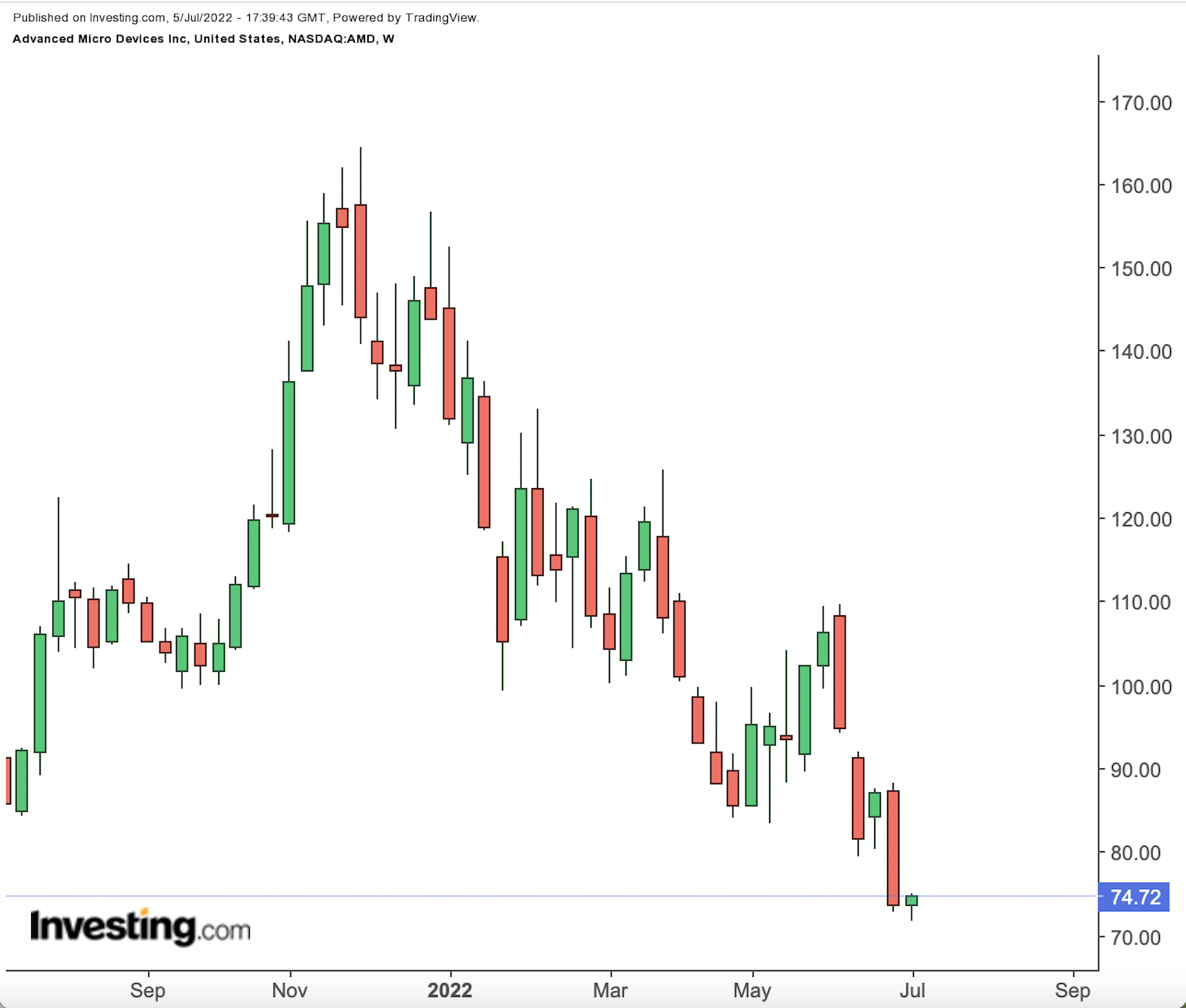 Source: Investing.com
By comparison, is down 40.9% so far in 2022. Meanwhile, shares of major competitors Intel (NASDAQ:) and Nvidia (NASDAQ:) have fallen by 31.7% and 50.3% YTD, respectively.
On Nov. 30, AMD shares surpassed $164, hitting a record high. However, as we write on July 5, shares are changing hands at 52-week lows. The stock's 52-week range has been $71.60 – $164.46. The market capitalization currently stands at $119.0 billion.
AMD's growth over the past few years has primarily been driven by market share gains through its Ryzen PC chips, EPYC server chips, as well as game consoles. Its chips power data centers are used by some of the cloud leaders, including Microsoft (NASDAQ:), Amazon (NASDAQ:) and Alphabet (NASDAQ:) (NASDAQ:). Analysts highlight the acquisition of Xilinx and Pensando should further enhance AMD's data center solutions capabilities.
Recent Metrics
Advanced Micro Devices announced Q1 financials May 3. increased by 71% year-over-year to hit $5.89 billion. Adjusted earnings more than doubled to $1.13 per diluted share, up 117% YoY. Cash and equivalents ended the period at $6.5 billion.
On the results, CEO Lisa Su commented:
"The first quarter marked a significant inflection point in our journey to scale and transform AMD as we delivered record revenue and closed our strategic acquisition of Xilinx."
In Q2, management anticipates revenue to come in at approximately $6.5 billion in the second quarter, an increase of roughly 69% YoY. For the full year, AMD forecasts revenue to increase by 60% YoY to $26.3 billion, mostly driven by Xilinx and higher server revenue.
Prior to the release of Q1 results, AMD stock was changing hands around $90. At the time of writing, it is at $73.80, down around 18%.
What To Expect From Advanced Micro Devices Stock
Among 42 analysts polled via Investing.com, AMD stock has an "outperform" rating. Wall Street has a 12-month median price target of $129.63 for the stock, suggesting an increase of more than 73% from the current price. The 12-month price range currently stands between $63 and $200.
Source: Investing.com
Similarly, according to a number of valuation models, like those that might consider P/E or P/S multiples or terminal values, the average fair value for Advanced Micro Devices stock on InvestingPro stands at $113.69.
Source: InvestingPro
In other words, fundamental valuation suggests shares could increase by 52.7%.
We can also look at AMD's financial health as determined by ranking more than 100 factors against peers in the information technology sector.
For instance, in terms of cash flow, growth and profitability, it scores 4 out of 5. Its overall score of 4 points is a great performance ranking.
At present, AMD's P/E, P/B and P/S ratios are 35.0x, 2.21x and 6.3x, respectively. Comparable metrics for peers in the information technology sector stand at 21.1x, 7.7x and 7.0x, respectively. These numbers suggest that despite the recent decline in price, the fundamental valuation for AMD stock is still on the rich side.
Our expectation is for Advanced Micro Devices stock to trade in a wide range between $70 and $77 to build a base in the coming weeks. Afterwards, AMD shares could potentially start a new leg up.
Adding AMD Stock To Portfolios
Advanced Micro Devices bulls who are not concerned about short-term volatility could consider investing now. Their target price would be $113.69, as suggested by quantitative models.
Alternatively, investors could consider buying an exchange-traded fund (ETF) that has AMD stock as a holding. Examples include:
Invesco PHLX Semiconductor ETF (NASDAQ:)
TrueShares Technology, AI and Deep Learning ETF (NYSE:)
iShares Semiconductor ETF (NASDAQ:)
VanEck Video Gaming and eSports ETF (NASDAQ:)
ProShares Nanotechnology ETF (NYSE:)
Finally, investors who want to generate income from their AMD stock holdings could consider setting up a covered call.
Most option strategies are not suitable for all retail investors. Therefore, the following discussion on AMD stock is offered for educational purposes and not as an actual strategy to be followed by the average retail investor.
Covered Call On AMD Stock
Intraday Price At Time Of Writing: $73.80
For every 100 AMD shares held, the strategy requires the trader to sell one call option with an expiration date at some time in the future.
Investors who believe there could still be short-term declines might use a slightly in-the-money (ITM) covered call. A call option is ITM if the market price (here, $73.80) is above the strike price ($70).
So, the investor would buy (or already own) 100 shares of AMD stock at $73.80 and, at the same time, sell an AMD Sept. 16 $70-strike call option. This option is currently offered at a price (or premium) of $10.15.
An option buyer would have to pay $10.15 X 100 (or $1,015) in premium to the option seller. This call option will stop trading on Friday, Sept. 16.
This premium amount belongs to the option writer (seller) no matter what happens in the future, for example, on the day of expiry.
The $70-strike offers more downside protection than an at-the-money (ATM) or out-of-the-money (OTM) call.
Assuming a trader would now enter this covered call trade at $73.80, at expiration, the maximum return would be $635, i.e., ($1,015 – ($73.80 – $70) X 100), excluding trading commissions and costs.
On expiration day, if AMD stock closes below the strike price, the option would not get exercised, but would instead expire worthless. Then, the stock owner with the covered call position gets to keep the stock and the money (premium) s/he was paid for selling the option.
At expiration, this trade would break even at an AMD stock price of $63.65, excluding trading commissions and costs.
Another way to think of this break-even price is to subtract the call option premium ($10.15) from the underlying AMD stock price when we initiated the covered call (i.e., $73.80).
On Sept. 16, if AMD stock closes below $63.65, the trade would start losing money within this covered call setup. Therefore, by selling the covered call, the investor has some protection against a potential loss in the case of a decline in the underlying shares. In theory, a stock's price could drop to $0.
Bottom Line
In recent months AMD shares have come under significant pressure. However, the semiconductor name should benefit from the growth of data centers, artificial intelligence, machine learning and cloud computing.
The exact market-timing of when AMD stock could start a new leg up is difficult to determine, even for professional traders. But options strategies provide tools that might prepare for different moves in price, especially around the earnings release date.
***
Interested in finding your next great idea? InvestingPro+ gives you the chance to screen through 135K+ stocks to find the fastest growing or most undervalued stocks in the world, with professional data, tools, and insights. Learn More »