Before the Internet boom, FedEx (NYSE:) was a barometer for the U.S. economy.
At a time before DocuSign (NASDAQ:) and the like, when essential corporate documents moved via FedEx's express mail services, revenue almost literally reflected American business activity.
In the modern world, that's no longer the case. FedEx's U.S. express business now accounts for less than 20% of total revenue.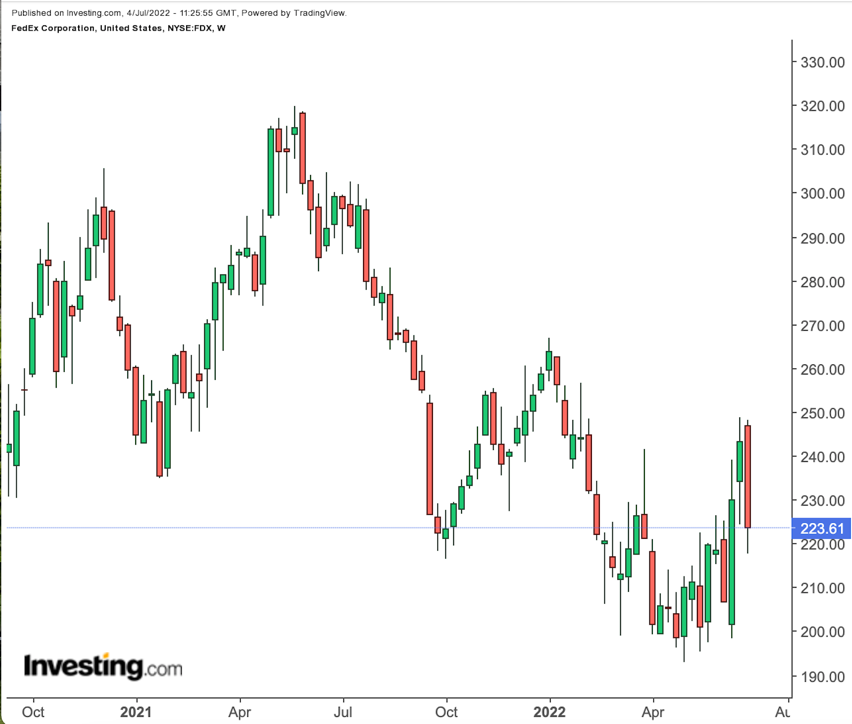 Of course, FedEx now is cyclical in a different way. Revenues from its ground business now have nearly eclipsed the Express business—both domestic and global. FedEx freight has profit margins roughly double the rest of the business. Ground relies on e-commerce; freight on the global economy.
And so FDX has a different risk profile. In the old days, FedEx revenue and profits were at clear risk from the kind of recession investors fear at the moment, and perhaps the kind of the U.S. already has entered. Now, macro worries still matter, but competition, direct and otherwise, is just as big of a risk.
At the moment, FDX stock is pricing in a good deal of those risks. Shares trade at just 11x adjusted earnings for fiscal 2022 (ending May). The stock has dropped 26% from its highs last year.
The risks are real. The rewards, for investors willing to take on those risks, are as well.
The Fundamental Case for FDX Stock
Even in a bear market, it's difficult to find a large-cap stock with a better fundamental profile than FDX.
Again, shares trade at 11x earnings. Earnings per share rose 13% in fiscal 2022. An agreement with an should lead to more aggressive capital returns, including steady hikes of a dividend that already yields a little over 2%.
FedEx management certainly seems bullish. At the company's Investors Meeting last week, FedEx projected annualized total shareholder returns of 18-22% over the next three years. At the high end of that range, $10,000 invested in FedEx stock right now would turn into more than $18,000.
To be sure, recession risks are a factor. But FedEx maintained during last week's presentation that its guidance didn't rely on an economic boom. The projections instead assume real U.S. gross domestic product growth of 2-3%, with core inflation at a 3-4% level, above pre-pandemic levels.
If those assumptions are too bearish, presumably FDX stock still can drive positive returns for shareholders. The boost to the Ground business from e-commerce growth (beyond Amazon (NASDAQ:), of course) will continue even in a recessionary environment; the boost simply may be lighter. The Freight business retains plenty of room for market share growth; the Express business is likely the least important going forward in terms of bottom-line growth.
Planned cost cuts across the business, and benefits from automation and other facility improvements will still hold. FedEx's guidance contemplates $30-plus in adjusted earnings per share in fiscal 2025; it's certainly possible the company doesn't get there. But there's still room for growth from FY22's $20.45; a path to $25 or better and a bit of multiple expansion still pushes FDX stock to $300 or better.
Add in 2-3% annually from dividends, and total returns are still in the 13-14% range per year. In what could be a prolonged bear market—or at least not the bull market to which investors became accustomed during most of the past 13 years—those kinds of returns are nothing to dismiss.
Mind The Risks
There are a couple of big catches here, however. The first is the macroeconomic environment.
FedEx can argue that its projections are relatively conservative. But investors don't see 2-3% real GDP growth as a downside scenario for the next few years. The same is true of 3-4% core inflation. FedEx's guidance is based on a macro environment that, by long-term standards, is relatively benign: growth about in line with the multi-decade average, inflation up from the 2010s but well below past periods (see the 1980s, let alone the stagflation of the 1970s).
If the economy performs worse than FedEx believes it will, then FedEx is going to perform worse than the company itself believes it will. There's simply no two ways about it.
Again, that might be priced in at 11x earnings. But the second risk is that FedEx's targets seem rather optimistic. In fiscal 2025, FedEx believes it can get adjusted operating margins to 10%. The figure was 7.3% in the most recent fiscal year, and 7.4% the year before.
270 basis points of expansion in three years is a massive amount for a mature business in a competitive field. That expansion seems to rely on growth in the freight business, where some of the supply chain disruptions of late likely have helped margins. In a hot economy, companies needed to get goods to market any way they could—and pay almost any price in the process.
FedEx thus has had significant pricing power. When that ends, so does margin expansion in the segment. Given targeted margins in freight are more than twice those of the rest of the business, flat performance there undercuts the company's targets.
More broadly, there's the question of why this time necessarily is different. FedEx has been making big promises for years. It hasn't delivered (pardon the pun). Over the past five years, FedEx stock has gained 3%—total. Rival United Parcel Service (NYSE:) has seen its shares gain 67%.
Indeed, after fourth-quarter and the investor meeting, analyst firm downgraded FDX stock, calling it "too much of a 'show me' story".
Berenberg's argument has a core logic. The reason FedEx can project annualized shareholder returns in the range of 20% is precisely because the market doesn't believe the company can hit the targets needed to drive those returns.
In other words, FDX isn't trading at 11x earnings because investors haven't been paying attention. It's trading at that multiple because they have been. Barring a big market rally, FedEx needs to prove to those investors that it can move toward the FY25 targets.
If it does, the upside is enormous. If it doesn't, the next few years likely look like the last few—at best.
Disclaimer: As of this writing, Vince Martin has no positions in any securities mentioned.
***
Looking to get up to speed on your next idea? With InvestingPro+, you can find:
Any company's financials for the last 10 years
Financial health scores for profitability, growth, and more
A fair value calculated from dozens of financial models
Quick comparison to the company's peers
Fundamental and performance charts
And a lot more. Get all the key data fast, so you can make an informed decision, with InvestingPro+. Learn More »