For long-term income investors, the post pandemic environment has made it difficult to find safe, high-yielding dividend stocks.
Many blue-chip dividend stocks were forced to cut or freeze their payouts to preserve cash as the COVID-19 pandemic turned their businesses upside down in a matter of days.
In the second quarter, according to a recent report in the Wall Street Journal, US companies unveiled their steepest dividend cuts since 2009. Shareholders were notified of a net $42.5-billion reduction in dividends on common stock during the period, according to S&P Dow Jones Indices. In total, 41 companies in the have suspended their dividends this year to conserve cash during the pandemic, including American Airlines Group (NASDAQ:) Carnival Corporation (NYSE:) and Marriott International (NASDAQ:), the report said.
Increasing the negative impact for income investors, as companies slashed dividends, the Federal Reserve pushed interest rates to a rock-bottom level to fight the pandemic-triggered economic downturn. So, in the search for yield, investors are pushing up share prices on stocks that pay a respectable dividend.
Even in this tough environment for investors in search of fixed income, there are some pockets of the market that offer a reasonable return. Below, we look at three high-yielding stocks. These names offer a starting point for further research.
1. Toronto-Dominion Bank
Yield: 4.81%
Quarterly payout: $0.59
Banks are considered cyclical stocks and tend to perform badly when interest rates are very low. But if you're a long-term investor and looking to earn steady dividend income, Canada's top lenders are still appealing.
In Canada, banks operate in an effective oligopoly, where their domestic business is well protected from external competition and regulation is much tougher than in many other developed markets.
To get exposure to one of the best banking systems in the world, Toronto-Dominion Bank (NYSE:), (TSX:) seems to be a good bet with its almost 5% dividend yield. The nation's second largest lender generates hefty cash flows and distributes about half of its income in dividends each year.
The current economic crisis has certainly hurt TD's and it has set aside more funds to deal with any credit losses. But its $0.59-a-share quarterly payout is a safer bet than buying riskier US bank stocks.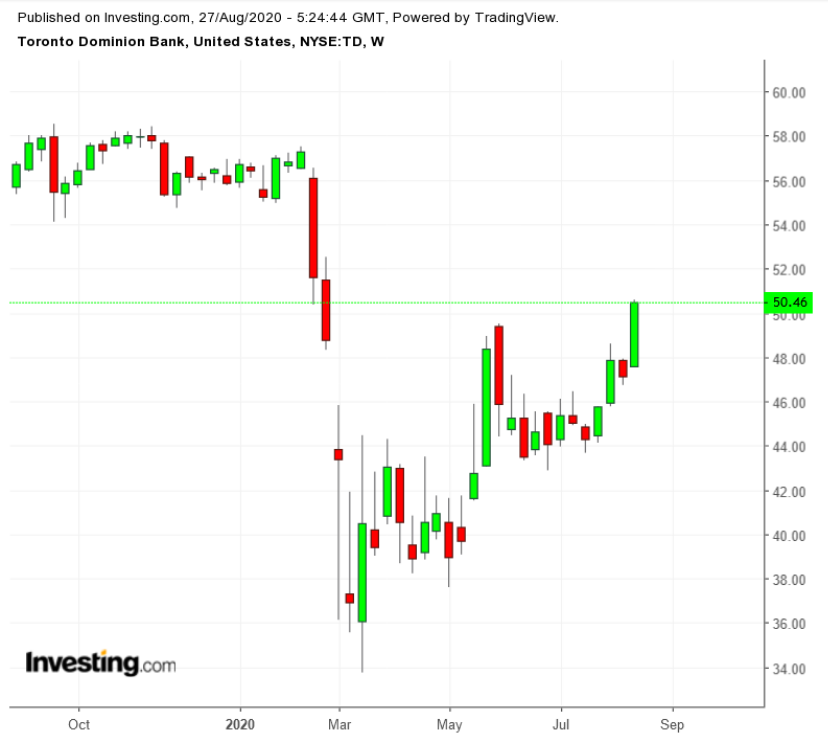 The shares have gained 25% during the past three months on signs that the bank is managing the downturn well and its dividend is safe. The stock closed at $50.46 in New York on Wednesday.
2. Verizon
Yield: 4.14%
Quarterly payout: $0.615
Telecoms are considered a defensive play in times of uncertainty. In general, these companies regularly increase payouts and, in many cases, they've been boosting dividends regularly for decades.
Holding these shares over the long term is a great way to ensure a steady income flow. They provide above-average yields, even when other areas of the market go through sharp adjustments.
In this space, we like wireless service provider Verizon (NYSE:). Instead of bulking up its balance sheet with mega deals, Verizon has been focusing on improving its infrastructure. The company has avoided making the kind of "big entertainment" purchases that peers like AT&T (NYSE:) have pursued.
Instead, Verizon has made smaller bets focused on ways to quickly improve its network. Due to its timely acquisition of Straight Path Communications in 2018, Verizon is ahead in the race to build a 5G network­­—part of an industry-wide effort to increase speed and open up new sources of revenue.
The company's latest showed that the telecom operator is weathering the economic downturn quite well. While net income has taken a hit, the largest US cellphone carrier by subscribers continues to add more connections.
In April, Verizon made another smart acquisition when it announced the takeover of BlueJeans Network, a privately held videoconferencing rival to Zoom (NASDAQ:), which has become the face of at-home work during the pandemic. BlueJean boasts a market value of $42 billion.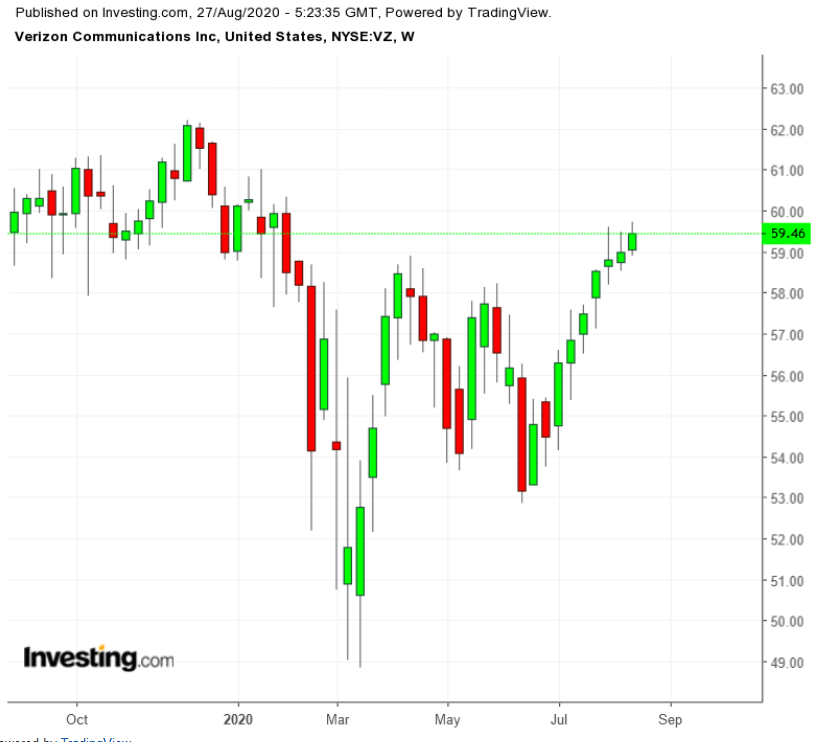 With its strong balance-sheet, growing dividends and leading position in the 5G rollout, Verizon is a solid—and comparatively safe—income choice for long-term investors looking to earn higher income. Shares closed yesterday at $59.46, up ever so slightly on the day.
3. Enbridge
Yield: 7.47%
Quarterly payout: $0.61
Utilities are another area where investors can find a good income stream if they are hold for the long run. North America's largest and pipeline operator, Enbridge (NYSE:) could be a good fit in this sector, with its massive moat and its crucial position in North America's energy supply chain.
Enbridge's cash flows are well diversified across many businesses and geographies, helping the utility to weather the economic downturn better than other companies.
For instance, while the pandemic is hurting oil consumption across the board, Enbridge's gas transmission, distribution and storage businesses, which account for about 30% of cash flows, are not expected to experience a meaningful impact from COVID-19.
In the latest , Enbridge was able to beat expectations mainly due to stronger US natural gas transmission and distribution earnings.
This revenue stability makes Enbridge a good defensive stock to hold when the economic headwinds begin to churn. The company pays a quarterly dividend of $0.61 a share, with an annual yield exceeding 7%.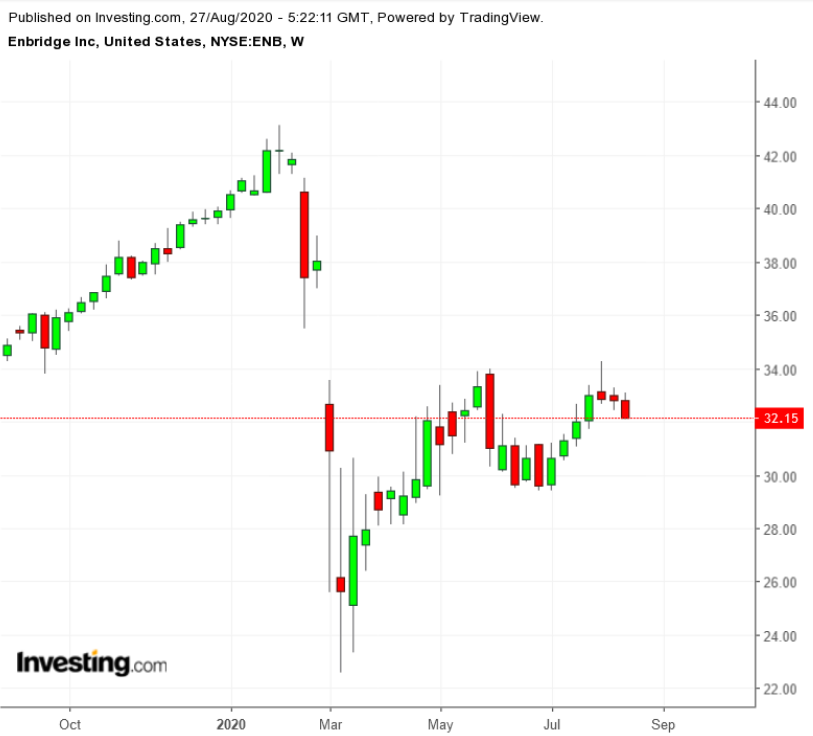 Over the past three years, Enbridge has been carrying out a restructuring plan, selling assets, focusing on its core strengths and paying down its debt. These measures are likely to benefit long-term investors whose goals are to earn steadily growing income.
Enbridge stock, down 81% to date in 2020, closed at $32.15 yesterday in New York down 1.62% on the day.