Reports Thursday, May 13, before the open
Revenue Expectation: $27.83B, 
EPS: $1.79
When the Chinese e-commerce giant Alibaba (NYSE:) reports its fiscal fourth-quarter earnings on Thursday, investors will be keen to learn how the company sees its business shaping up after the Asian nation's crackdown on its anti-trust practices.
Chinese regulators last month slapped Alibaba with a record $2.8-billion fine for abusing its dominant position over rivals and merchants on its e-commerce platforms. As part of the penalty, regulators required that Alibaba carry out a comprehensive revamp of its operations and submit a "self-examination compliance report" within the next three years. The 18.2-billion-yuan ($2.8B USD) fine is equivalent to 4% of the company's domestic annual sales in 2019.
The outcome of the six-month probe against the e-commerce empire, founded by Jack Ma, was less severe than many had feared, however. Amid the probe, Alibaba's shares came under intense selling pressure, losing about 30% of their value since then. The company's U.S. traded stock closed yesterday at $219.53.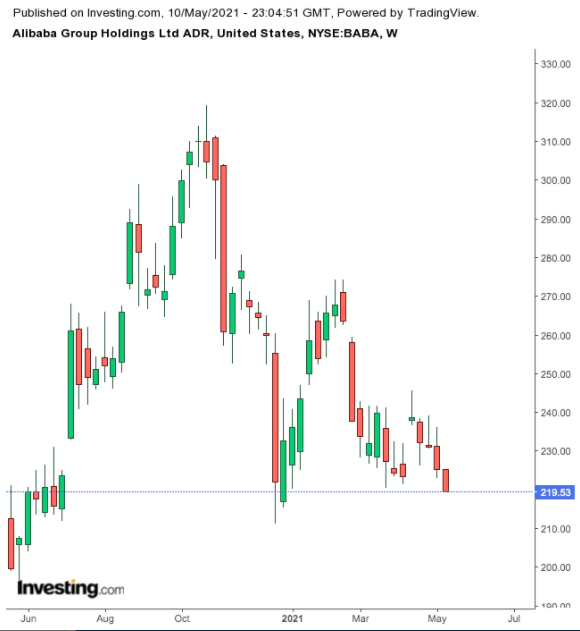 Alibaba Weekly Chart.
But that bearish spell continues even as company executives try to put the matter in the rearview mirror and focus on the post-pandemic recovery. One reason for this lukewarm reaction by investors is that the fine came with a list of "rectifications" in some of its business practices, such as curtailing the practice of forcing merchants to choose between Alibaba or a competing platform.
Said Lina Choi, a senior vice president at Moody's Investors Service, in a note last month:
"The required corrective measures will likely limit Alibaba's revenue growth as a further expansion in market share will be constrained. Investments to retain merchants and upgrade products and services will also reduce its profit margins."
These measures, if implemented, could weigh on Alibaba's margins, especially when the company is facing resurgent rivals like JD.com (NASDAQ:) and Pinduoduo (NASDAQ:). Morgan Stanley estimated that Alibaba's community group-buying business, a popular way to sell groceries online, would incur losses until the fiscal year ending March 2025. Mergers and acquisitions will also likely get more scrutiny going forward.
Despite the uncertainties coming from China's anti-trust actions, Alibaba remains the dominant platform in the world's second largest economy. In 2020, Alibaba's active user base expanded by 10% to reach 779 million users. That space of growth will likely continue in the post-pandemic environment as China's economic recovery gains momentum, helped by its massive consumer market.
Along with its core e-commerce business, Alibaba's cloud computing business is expanding fast. In the it become profitable for the first time. The unit is currently the leader in China, with a 40% market share. 
Bottom Line
The Chinese e-commerce giant has avoided the worst outcome from the regime's anti-trust crackdown—its breakup. Still, investors are not willing to bet big on the giant's future, especially when it's required to end its many monopolistic practices that could dent the platform's future growth potential. This week's earnings might provide some clarity on how the company sees its outlook shaping up.