For investors in the Walt Disney Co. (NYSE:), the past week brought mixed signals. While the economic reopening and loosening of COVID-19 restrictions may facilitate visitors returning to its deserted parks and theaters, its streaming service—which was the company's saving grace during lockdowns—is losing some momentum after producing blistering growth during the past year.
The entertainment giant last week reported 103.6 million Disney+ customers at the end of last quarter, falling short of 110.3 million projected by analysts. That disappointing number accelerated the decline in its shares, which are now down about 10% in the past month. They closed Monday at $170.08 a share.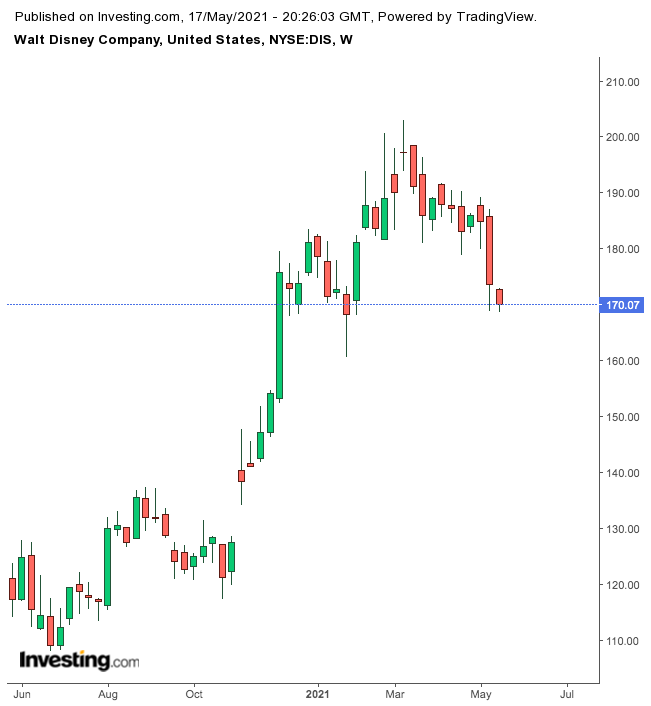 Rapid growth in Disney+ supported its stock throughout the pandemic when its legacy businesses lost billions of dollars during stay-at-home orders. The service topped 100 million users in just 16 months after its U.S. launch in November 2019. It rolled out to Canada, Australia, Latin America and Singapore in the following months. 
Now that subscription levels are slowing, investors are moving to the sidelines, fearing further declines in the share price. The current pullback, in our view, is a buying opportunity for long-term investors who were looking for a good entry point.
Despite a weaker headline number, there are many positive catalysts that could improve Disney's financial position this year, supporting its share price and helping the entertainment giant resume its suspended dividend.
Strong Pent-Up Demand
Among the positives for DIS, the U.S. government's decision in the past week to relax masking guidelines will speed up the recovery in its traditional revenue-generating units, including theme parks, movie theaters and cruises, where consumers' pent-up demand is strong after a year of travel restrictions.
Disney's parks are now reopened everywhere but Paris, and the company is returning to exclusive theatrical releases—its strength before the pandemic. "Free Guy" and "Shang-Chi and the Legend of the Ten Rings" will both play in theaters for 45 days before going online, Disney announced last week.
Some leading analysts on Wall Street continue to remain bullish on Disney after the past week's . Based on 19 analysts' ratings, Disney stock has a 23% upside potential from its current level, with a 12-month consensus price target of $209.06, according to TipRanks.
Wells Fargo senior equity analyst Steven Cahall said in a note:
"Along with missing consensus on quarterly Disney+ subs we expect the stock to pull back and hang out for a bit. However, we view this as an excellent opportunity to accumulate as this is a long-haul content story, and neither the total addressable market nor strategy is at all impaired. We're buyers on any weakness and see a two-year path to $250." 
Bullish analysts on the Disney stock believe the shortfall in streaming subscribers is temporary and the company's overall investment appeal remains strong, especially when its legacy businesses are coming back.
Disney said last week that subscriptions picked up in the latter part of the quarter and that it's nearly back to full production for film and TV. More Marvel and Star Wars shows are coming, building on the success of "WandaVision," "The Mandalorian" and "The Falcon and the Winter Soldier."
With that, Disney+ global expansion also remains on track. The service is set to launch in Malaysia on June 1 and Thailand on June 30. A Star+ branded Latin American service is due Aug. 31, suggesting the company still has a lot of room to run on its streaming growth.
Morgan Stanley, which has an "overweight" rating on Disney with a price target $210, said in a note:
"All signs point to a strong reopening across the cyclical and COVID-related parts of Disney's businesses, led by parks. As the pandemic subsides over time, sports returns to its normal cadence, and consumers return to theaters—all of Disney's related businesses should recover quickly and contribute to significant earnings growth."
Bottom Line
Disney stock is under pressure after growth in its streaming business shows signs of slowing after a massive expansion. But that pullback offers a buying opportunity when its legacy businesses are opening up and the streaming service still has a lot of growth potential. These positive fundamentals point to strength in its share price going forward.