Happy Juneteenth! Tomorrow marks the newest federal holiday—with many companies and government offices celebrating the holiday today. But given the last-minute passage of the bill to make it a federal holiday, markets will remain open.
Keep in mind that today is quadruple witching day, which means it's one of four days a year (once a quarter) when contracts for stock index futures, stock index options, stock options, and single-stock futures all expire. You may want to exercise a bit more caution than normal, especially on the opening and heading into the close as the unwinding positions could lead to sudden moves.
If things don't shape up, it's looking like the is headed for its worst week since January. The market has shown an incredible ability to rally, but the Fed caught investors a bit flat footed with its hawkish shift this week.
As the week comes to a close, it seems that the stock market is continuing to adjust to the new normal of a slightly more hawkish Fed. But at the same time it also appears to be taking the Fed at its word that inflation is transitory, at least for the moment. That stance has helped prompt a pullback in long-term Treasury yields and outperformance among Tech stocks.
Post-Fed Meeting: The Big Picture
In recent months, investors have been pulling back from tech and other growth stocks out of fear that longer-term inflation would eat away at their future performance. But the market seemed to be somewhat reassured by the Fed simultaneously raising its inflation forecast for the year but also sticking with its message that a spike in prices is only transitory. It was as if policy makers were telling the market they take concerns about inflation seriously but remain relatively unworried about them.
In an odd way, central bankers may also have reassured the market that inflation won't get out of hand by noting its increased expectations for a rate hike sooner than later. While that wouldn't be great for easy money, it could serve to put a cap on runaway prices, if those even became a problem at all.
A Tug of War Returns
The push into tech stocks on Thursday came at the expense of cyclical stocks, with the Energy, Financials, Industrials, and Materials sectors all taking it on the chin. With Financials, the declines in longer term yields seemed to be the main culprit. Commodities producers got hurt as a rising dollar pressured raw materials' prices broadly. And industrial metals producers in particular were feeling the pain as China moved to cool inflation, saying it would release , aluminum, and zinc from its strategic reserves to processing and manufacturing firms.
Cyclical stocks may also have gotten hurt somewhat from a worse-than-expected reading on weekly jobless claims. Initial claims rose to 412,000. A Briefing.com consensus had anticipated a reading of 350,000, which would have been a drop to a new low since the pandemic began.
But the economy overall seems to be recovering fairly nicely. And despite everything going on in the market, there hasn't been a general sense of disorder. Although Friday morning starts with a bout of market weakness, the Fed's hint at a policy pivot can hardly be called a "rout" or a "tantrum" thus far, but rather an "orderly transition."
The Week Ahead
In addition to next week's initial jobless report, investors are also likely to closely monitor existing and new home sales figures and the personal consumption expenditures price index.
The PCE data is likely to be closely scrutinized given the market's focus on inflation at the moment. Also, the core reading that strips out volatile food and energy prices is the Fed's preferred inflation gauge.
It's a light week for earnings next week because we're in the off season, but KB Home (NYSE:), Darden Restaurants (NYSE:), Carnival (NYSE:) (NYSE:), Rite Aid (NYSE:), FedEx (NYSE:) and Nike (NYSE:) could add interesting color to our understanding of where the economy is at.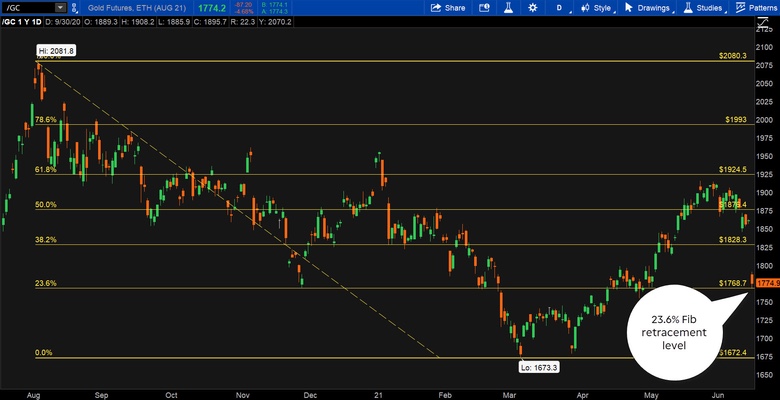 CHART OF THE DAY: GOLD'S SLIDE. (/GC—candlestick) have fallen sharply, reaching lows they haven't seen since early May. After flirting with support at the $1880 per ounce level, /GC prices went as low as $1768 per ounce, their 23.6% Fibonacci retracement level, after Wednesday's comments from the Fed. Data source: CME Group (NASDAQ:). Chart source: The thinkorswim® platform. For illustrative purposes only. Past performance does not guarantee future results.
Splitsville: The ultra-dovish Fed has arguably been the gold market's best barstool buddy lately, but Wednesday's touch of hawkishness seems to have caused a rift in the friendship. Gold futures (/GC) may be experiencing a bit of a hangover after rallying to a multi-month high above $1900 recently. On Thursday, it closed at $1775 per ounce. A mere few days ago, we were commenting on how /GC support at around $1880—its 50% Fibonacci retracement level—looked to be holding (see chart above). Since then, the yellow metal has breached several more support levels in one swoop as it reached a low of $1768, which interestingly coincides with its 23.6% Fibonacci retracement level.
It's a tough trade for gold which, on the one hand, is seen as a classic inflation hedge and a place to park cash at a time when some inflation metrics have been coming in hot. On the other hand, gold is a non-yielding asset, so if the Fed is indicating Treasury yields might be ticking up sooner rather than later, there might be greener pastures elsewhere. And, of course, commodities in general took it on the chin Thursday as the dollar rose. Still, the gold market may be hinting at normalized interest rates and transitory inflation.
Dollar Dims Gold's Glow: With expectations of a hike in the Fed funds rate sooner than later, it appears that investors are repositioning into the U.S. dollar in search of rising yields on investments in dollar-denominated fixed income assets. Gains in the greenback make dollar-denominated gold more expensive for those holding other currencies, which can dampen demand. So it appears a key question is whether the dollar—and interest rates—will strengthen enough to push gold more toward its lows from earlier this year or whether there may be a stabilization before then.
Golden Opportunities … and Risks: What seems like less of a question is that gold prices will remain volatile. As a commodity, especially one so sensitive to currency and fixed-income markets, gold frequently experiences outsized ups and downs. It's just in its nature. For those who don't want to trade in the futures market, other ways to invest in gold include physically-backed or mining-stock-linked funds. For those who love to pick stocks, investing in individual gold miners can be appealing. Of course, that also brings in other risks, such as those associated with exploration, permitting, politics, labor and management that you don't have to worry about when investing in bullion. Because of operating and financial leverage, miners can often outpace the price of gold when it's on the way up. And such companies can aim to limit the damage when gold's on the way down by cutting costs, boosting efficiency and increasing production.