Retirement homes were hit especially hard by COVID-19. Sadly, many of their clients lost their very lives as elderly people are the most vulnerable demographic. And although New Zealand and Australia have so far dealt with the pandemic better than most, the spring of 2020 was a real nightmare for companies like Ryman Healthcare (NYSE:).
With its 34 retirement villages in New Zealand, two in Melbourne and eight under construction in Victoria, Ryman is a large rest home operator. So when the coronavirus panic struck last year there was no way for the stock to escape the carnage. After trading above NZ$17 in February 2020, RYM was down 61% to NZ$6.61 at one point in March.
Fortunately for investors, most of those losses were erased almost as quickly as the gains before them. By November 2020, Ryman was hovering around NZ$16 again. As of this writing, however, the recovery seems to have gone out of steam. With the share price slightly over NZ$13.20, is this a dip to buy or the start of another big selloff?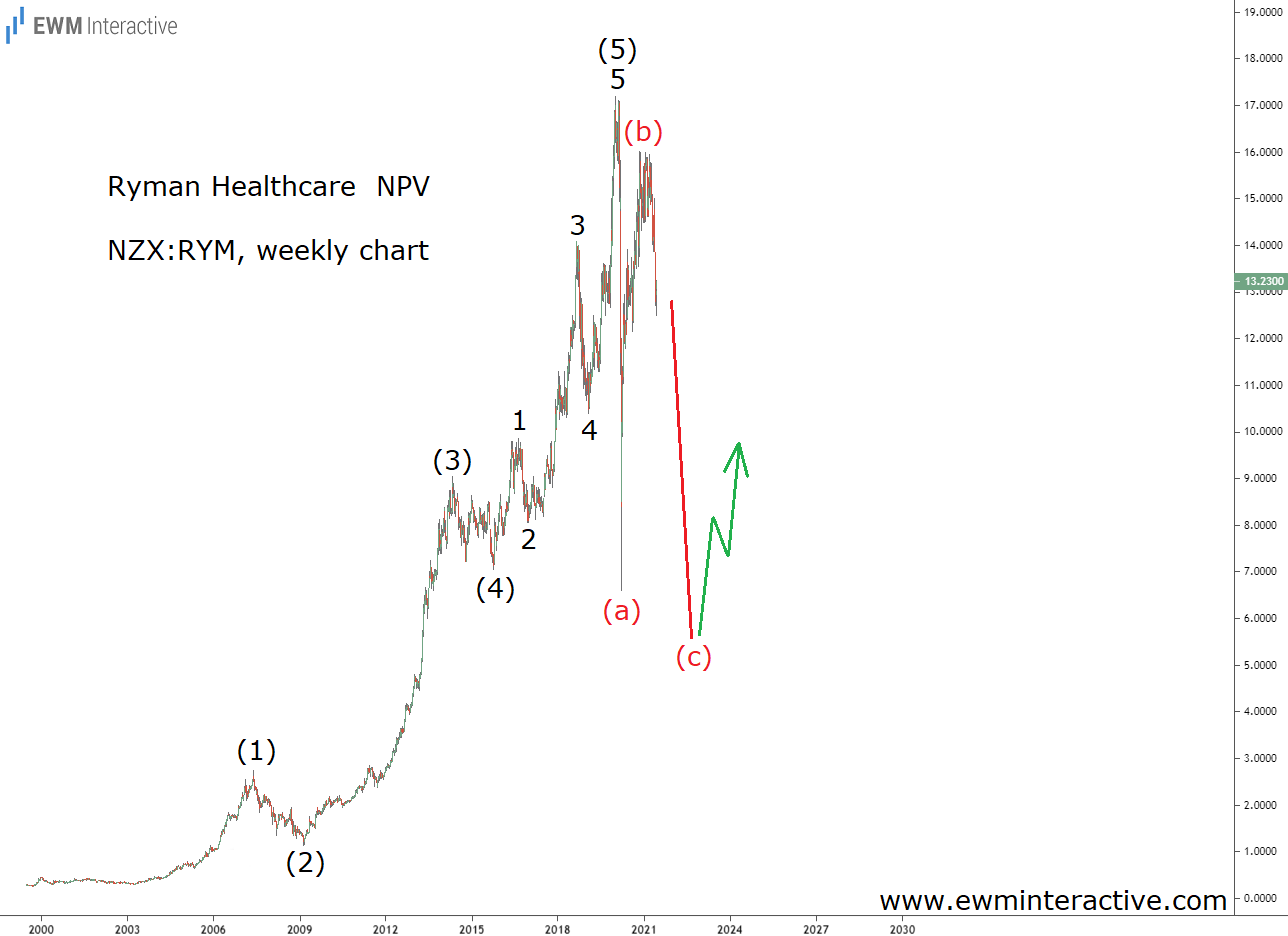 The weekly chart above visualizes Ryman 's entire history as a public company. It also reveals that the 20-year uptrend from the IPO until the top in 2019 has taken the shape of a textbook five-wave impulse. The pattern is labeled (1)-(2)-(3)-(4)-(5), where the five sub-waves of wave (5) are visible, as well.
Charts and Fundamentals Agree that Ryman Healthcare is Expensive
Ralph Nelson Elliott once discovered that a three-wave correction follows every impulse. Of course, we can never be sure what would've otherwise happened. However, this means Ryman stock was supposed to decline even without Covid-19. It was time for a retracement anyway.
The problem is that last year's crash doesn't look like a three-wave pattern. It looks more like a single wave (a) within a larger correction that is still in progress. If that assumption is correct, the following recovery to NZ$ 16.02 must be wave (b). This, in turn, suggests the current weakness is the beginning of wave (c).
C-waves usually breach the end of the corresponding wave A. In Ryman 's case, this translates into a decline below NZ$6.61. In our opinion, bearish targets in the NZ$6-5 area make sense as long as the stock trades below NZ$16.
Besides, Elliott Wave analysis is not the only reason we're skeptical of Ryman stock. The company makes about NZ$150 million in free cash flow a year and has a market cap of NZ$6.5 billion. This gives us a P/FCF ratio higher than 43. Quite expensive for a company that is not growing that fast and has NZ$2.3 billion in debt.
In conclusion, fundamentals and charts seem to agree that NZ$13 a share is too high a price for Ryman Healthcare. The stock can revisit its Covid crash lows before the bulls return. We plan on watching from a safe distance.