After remaining under extreme selling pressure this spring, Twitter (NYSE:) is gaining momentum again. Shares of this microblogging app have surged more than 25% during the past month, far outpacing the gains of other social media rivals, like Facebook (NASDAQ:).
Twitter, which closed Thursday at $68.25, has more than doubled during the past 12 months. During that period, Facebook shares have gained 42%. So, what is prompting growth investors to prefer Twitter over other social media giants?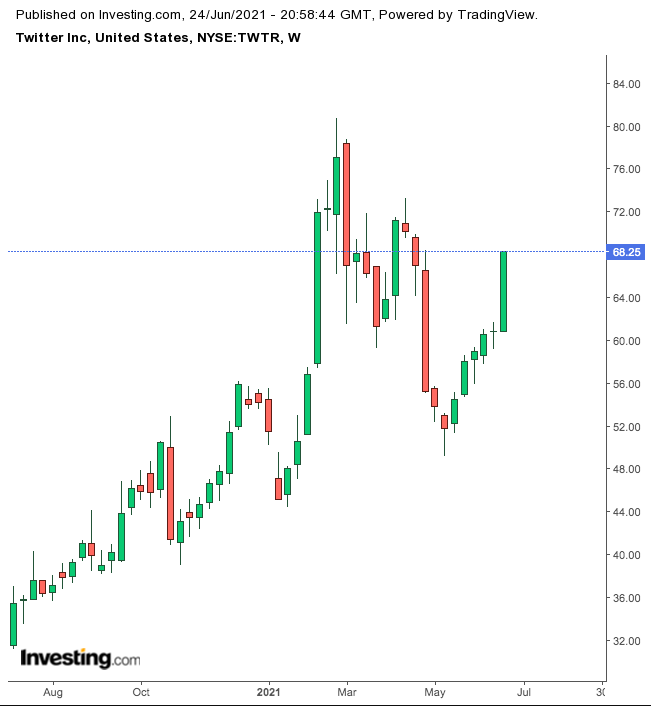 The San Francisco-based company has recently unveiled many initiatives to propel growth, including a long-awaited subscription service to diversify its revenues from just advertising.
Dubbed Twitter Blue, the product will offer access to tools to "undo" a post before it goes out publicly, organize bookmarked tweets into folders and more easily read long tweet threads. 
The service is now available in Canada and Australia at a cost of $3.49 and $4.49 per month, respectively. The company did not say when Twitter Blue will be available in the US.
In addition, Twitter's recently acquired newsletter platform Revue is allowing creators to publish and monetize newsletters.
Super Follows
Another monetization project the company is working on is a monthly subscription product called Super Follows, which will let people charge their followers for exclusive content, like tweets, newsletters or access to audio conversations. The company hasn't rolled out the feature yet, but is planning to offer three pricing tiers, at $2.99, $4.99 and $9.99 per month.
All of these moves are part of the company's push to double its revenue by the end of 2023 and grow its user base to 315 million daily active users from the current 200 million users. 
The subscription model could help Twitter diversify its business, especially when the pandemic-driven activity in user engagement is ebbing. The company makes more than 85% of its revenue from advertising, with the remainder coming from its data licensing business. 
Some deep-pocketed hedge funds are seeing value in Twitter stock. Elliott Investment Management has recently bought more than $200 million in Twitter stock, after the company's disappointing Q1 prompted a plunge in its shares. Cathie Wood's ARK investment funds also bought 1.3 million shares of Twitter to take advantage of its slump after the Q1 report.
Despite this support from hedge funds, the majority of analysts don't see much price growth for Twitter stock from here. Based on 27 Wall Street analysts offering 12-month price targets for Twitter, the average price target is $68.04, according to TipRanks.com.
The main reason behind this cautious approach is the possible deceleration in user growth after the pandemic-driven surge. Twitter expects second-quarter revenue in the range of $980 million to $1.08 billion. The mid-range of $1.03 billion is below analyst estimates of $1.06 billion. 
Bottom Line
Some investors are putting faith behind the company's recent growth plan and buying its shares. Analysts, on the other hand, don't see much gain in the short run from this point as the company enters a slow growth phase after the pandemic-driven surge in user engagement.