Reports Q2 2021 results on Thursday, July 22, after the close
Revenue expectation: $1.06 billion
EPS expectation: $0.072
When Twitter (NYSE:) reports its second-quarter earnings tomorrow, the company behind the microblogging app may not have much to show investors that will impress them. User expansion is slowing after the pandemic-driven bump, while the economic environment is becoming uncertain for growth stocks amid surging Delta variant cases.
This trend was evident when the company released its in April and warned about the slowdown for the period that ended on June 30. The San-Francisco-based company expects to increase users in "low double digits" percentages for the rest of 2021, with the lowest growth rate expected in the second quarter.
Another disadvantage which could depress Twitter's earnings in this report is that the company, unlike its bigger competitors Facebook (NASDAQ:) and Alphabet (NASDAQ:), doesn't make much money from direct response advertising, which is thriving as small businesses open after lockdowns last year. The social media company relies more on big brand advertising, which makes up 85% of its total sales.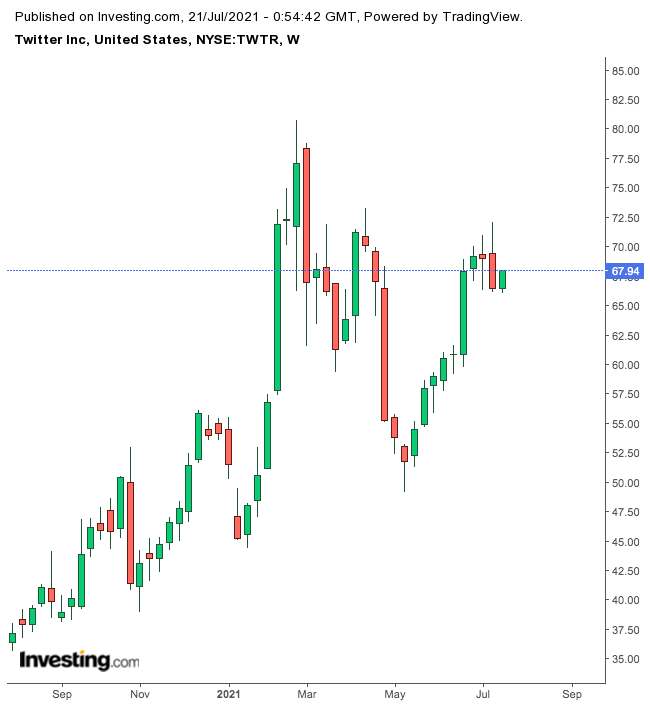 Twitter Weekly Chart.
Despite these challenges, Twitter's stock had a powerful run during the pandemic, surging more than 80% in the past year, as investors focused on the company's long-term appeal and its future growth plans.
New Growth Initiatives
The company has recently unveiled many initiatives to propel growth, including a long-awaited subscription service to diversify its revenues from just advertising.
Dubbed Twitter Blue, the product will offer access to tools to "undo" a post before it goes out publicly, organize bookmarked tweets into folders and more easily read long tweet threads.
In addition, Twitter's recently acquired newsletter platform Revue is allowing creators to publish and monetize newsletters. Another monetization project the company is working on is a monthly subscription product called Super Follows, which will let people charge their followers for exclusive content, like tweets, newsletters or access to audio conversations.
All of these moves are part of the company's push to double its revenue by the end of 2023 and grow its user base to 315 million daily active users from the current 200 million. The subscription model could help Twitter diversify its business, especially when the pandemic-driven activity in user engagement is ebbing.
These growth plans, however, have failed to excite analysts in the short run. They don't see a compelling reason to recommend a buy rating on the stock.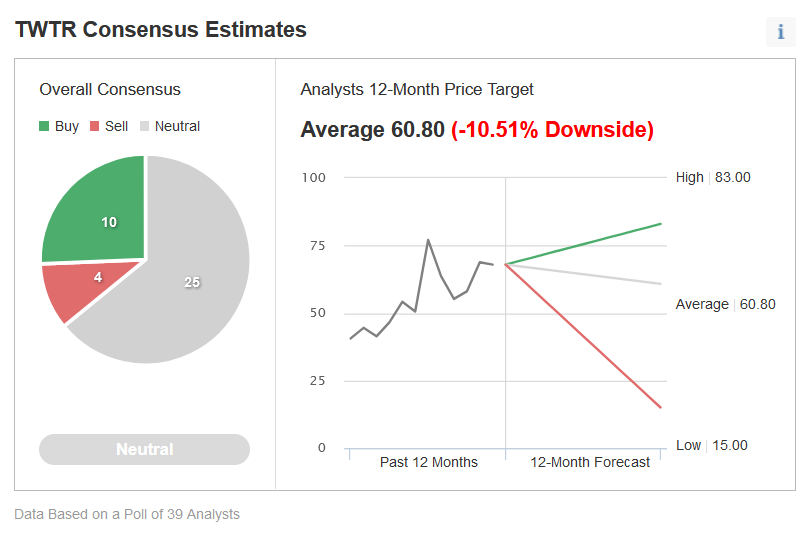 Chart: Investing.com
According to an Investing.com poll of 39 analysts, Twitter stock could fall 10% from its current level in the next 12 months, with 25 forecasters providing a "neutral" rating.
Bottom Line
After the pandemic-driven boom in user growth, Twitter's earnings report tomorrow may show a return to more moderate sales and earnings growth relative to competitors like Facebook and Google-parent Alphabet.
That said, Twitter has achieved solid momentum in turning its platform into one that advertisers increasingly value. Any post-earnings weakness should be a buying opportunity for those looking for a good entry point.