The video-streaming giant Netflix (NASDAQ:) reported its latest earnings this week and they proved to be a mixed bag for investors.  
While the company beat analysts' expectations for the that ended June 30, its forecast for the current period was tepid, suggesting that the slowdown that started early this year has more room to run.
The company added 1.54 million customers in the second quarter. While that was above the 1.12 million forecasted by analysts—and Netflix's own estimate of 1 million—it's nowhere near the company's growth performance last year, when nearly 26 million new customers signed up for Netflix service in the first half. That was the time when people were stuck at home during the pandemic and flocked to its movies and shows. 
The company also told investors that it's expecting to add 3.5 million subscribers in the third quarter, well short of the 5.86 million analysts had projected. With another disappointing report, Netflix shares came under renewed pressure, falling more than 3% on Wednesday and adding to their 13% decline since January this year. Yesterday, shares closed at $511.77, down 0.36% on the day.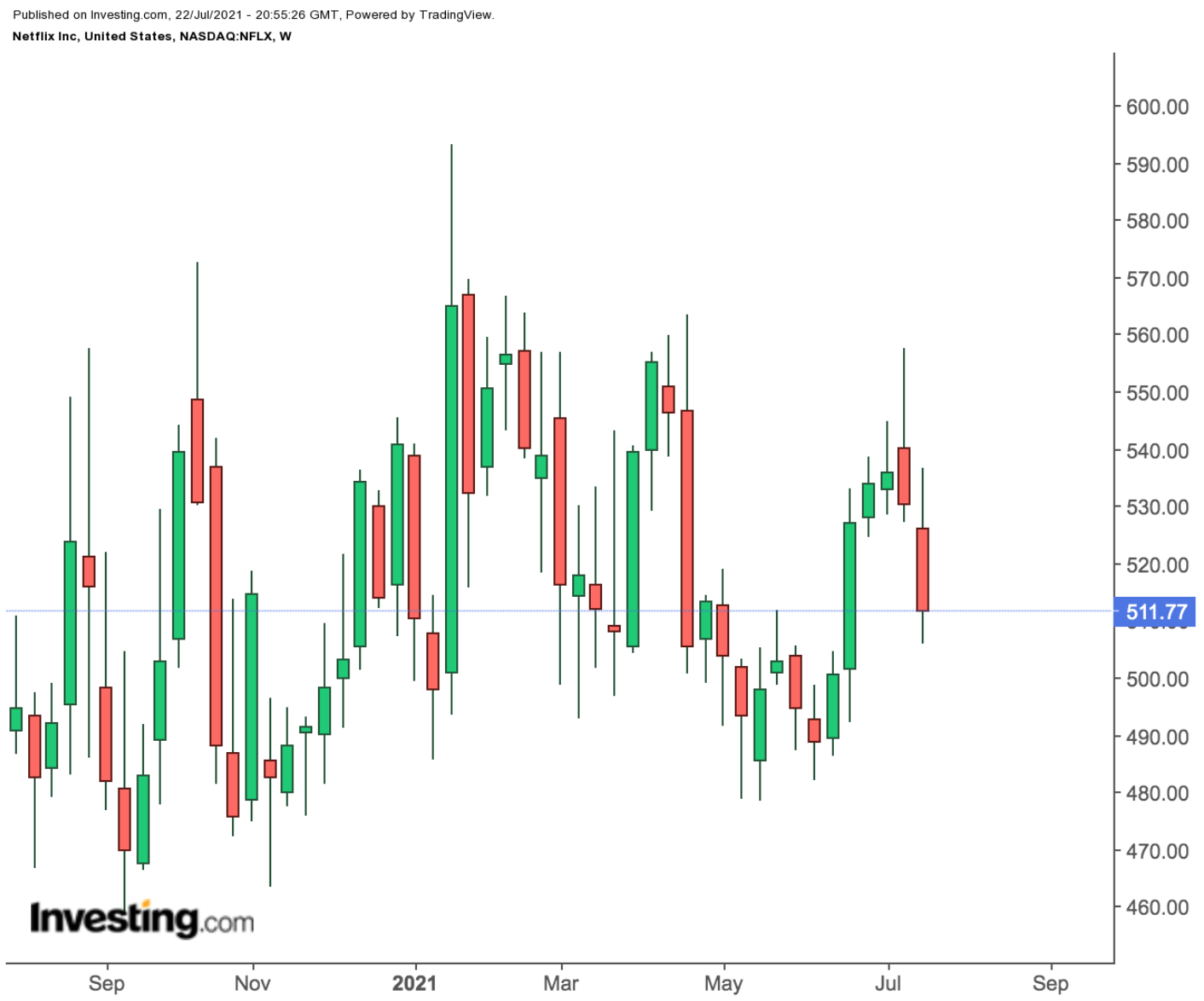 But this weakness in Netflix shares is a buying opportunity, as some top analysts believe the streaming giant hasn't yet reached a saturation point when it comes to growth. JPMorgan analyst Doug Anmuth raised his price target after the report to $625 a share from $600, with an overweight rating.
Anmuth wrote in a note:
"This may seem counterintuitive as our 2H subs come down and 2022 consensus net adds are likely to as well. However, we are increasingly confident in the 2H content slate and more reasonable expectations into 2022 should make NFLX safer to own."
His note continued:
"'Clearing event' may be an overused phrase on NFLX near term, but we believe it is appropriate nonetheless, and NFLX still has significant global secular growth opportunity ahead."
New Growth Areas
During the first half of this year, Netflix had fewer big shows to offer as the pandemic disrupted production, but the company now believes it will build up through the course of the year. Netflix's upcoming releases include new seasons of 'La Casa de Papel' and 'The Witcher,' two popular shows. 
Another reason analysts are bullish on Netflix growth prospects is that the company is considering entering a highly lucrative video games market to broaden its appeal. The company will add games to its streaming service in the next 12 months at no additional cost to its customers, and its first games will be designed for mobile devices.
"We are thinking about it as a core part of our subscription offering," Chief Product Officer Greg Peters said Tuesday. Netflix will both develop games in-house and license games from outside studios, as it does with film and TV. 
Morgan Stanley, which has an overweight rating on Netflix with a $650 price target, said in a note that both Q2 results and Q3 guidance were broadly in-line with expectations and don't look bad when the economy is reopening. "Looking to 4Q, content investment will ramp substantially and net additions should follow. Video games emerge as the next content genre extension, but it remains early," its note stated.
Analysts' consensus estimate on Investing.com shows that Netflix stock has a 20% upside from its current stock price, with 33 of 43 analysts assigning an outperform rating on the stock.
Bottom Line
Netflix growth is slowing after a strong year, when it added a record number of new subscribers. Despite this slowdown, the majority of Wall Street analysts are bullish on Netflix stock as they are convinced that the company has more growth upside, especially when it's venturing into video games.