Reports Q2 2021 results on Wednesday, July 28, after the market close
Revenue Expectation: $27.85 billion
EPS Expectation: $3.04
Judging by the current momentum in Facebook (NASDAQ:) shares, there's little doubt that investors are expecting yet another strong sales number when the social media giant releases its latest quarterly earnings today.
The stock has been one of the best performers among the group of FAANGs, which include Apple (NASDAQ:) and Amazon (NASDAQ:). FB has soared more than 30% this year, pushing its market capitalization beyond the $1-trillion mark during the past quarter.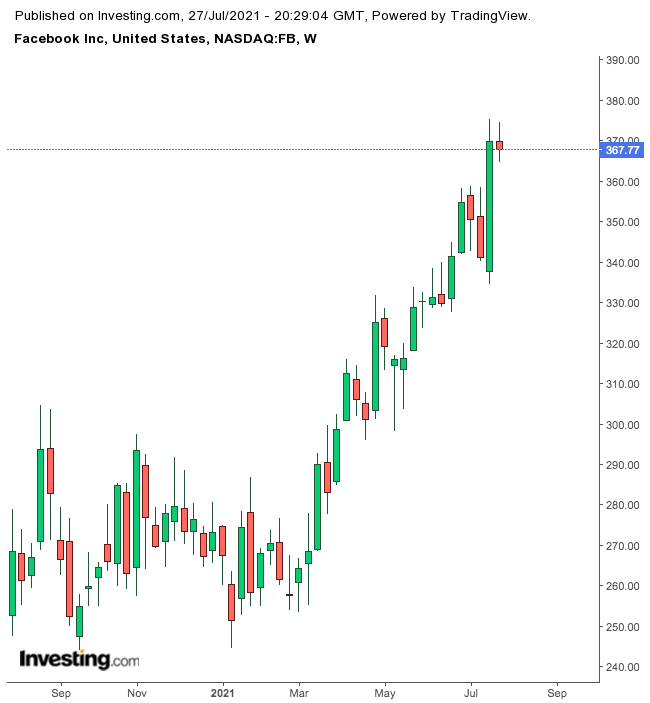 Facebook Weekly Chart.
Sales are likely to jump to $27.85 billion, a 49% increase from the same period a year ago, while the company's profit per share is expected to rise to $3.04 from $1.80 a year ago, according to analysts' consensus forecast.
Behind these strong forecasts: robust digital-ad spending by small and medium-sized businesses in the post-pandemic environment, when grabbing customers online is crucial to their survival.
Indeed, all signs are pointing to this business imperative affecting the California-based social media giant as well so that on this front. Facebook has a history of providing a cautious outlook, then exceeding expectations.
Further strengthening this argument are the recent earnings reports by smaller companies in the social media space, such as (NYSE:) and (NYSE:), which exceeded expectations with a big margin and gave an upbeat forecast for the current period.
These companies are also seeing surging user numbers on their platforms as audiences use these platforms for at-home entertainment and keeping up with loved ones in many countries where the pandemic is still raging, forcing governments to impose lockdowns. In this environment, larger advertisers have been relying more on social media sites, while small businesses are increasing their spending to reach digital customers.
For Facebook, this has been a conducive environment to increase its ad prices. The average price per ad in rose 30% from a year earlier, and the number of ads delivered rose 12%.
Threat From Software Update
Even with this upbeat earning season, one potential threat that could hurt Facebook is a new prompt from Apple, which arrived in an iOS software update to iPhones in early June, explicitly asking users of each app whether they are willing to be tracked across their internet activity.
Bloomberg reported early this month that when users get asked on iPhones if they'd like to be tracked, the vast majority say no.
Stated the Bloomberg report:
"That's worrying Facebook advertisers, who are losing access to some of their most valuable targeting data and have already seen a decrease in effectiveness of their ads."
Facebook executives, during their guidance in April, told investors that they believe many users will opt out of this tracking, making it harder for advertising customers to precisely tailor their outreach campaigns.
"We continue to be concerned about the impact this update is going to have on the ability of small businesses to use their advertising budgets effectively," said Chief Financial Officer David Wehner during a conference call in April. "That said, we think the impact on our business will be manageable."
Bottom Line
Facebook earnings momentum is likely to continue through much of this fiscal year, helped by user and ad revenue growth on its platforms, including Instagram and WhatsApp. But the Apple iPhone software update could pose a challenge if it impacts advertisers in a big way.