Google parent company Alphabet (NASDAQ:) (NASDAQ:) this week smashed Wall Street's earnings estimates by producing sales and profit that far exceeded expectations.
The search engine behemoth reported its highest quarter ever for sales and profit, fuelled by the robust ad spending from businesses trying to capture sales as economies reopen across the globe.
Alphabet reported revenue of $61.88 billion, an increase of 62% from a year earlier, when its ad business slumped after the outbreak of the coronavirus that pushed the economy into a deep recession. Profit more than doubled to $18.53 billion, with per-share earnings surpassing analysts' expectations.
Anticipating this boost from the reopening, the California-based company's shares have soared about 56% this year, at a time when gains in other high-growth tech stocks are slowing. Google stock closed yesterday at $2,715.60. It remains the best-performing name among the five mega tech stocks that include Apple (NASDAQ:) and Amazon (NASDAQ:).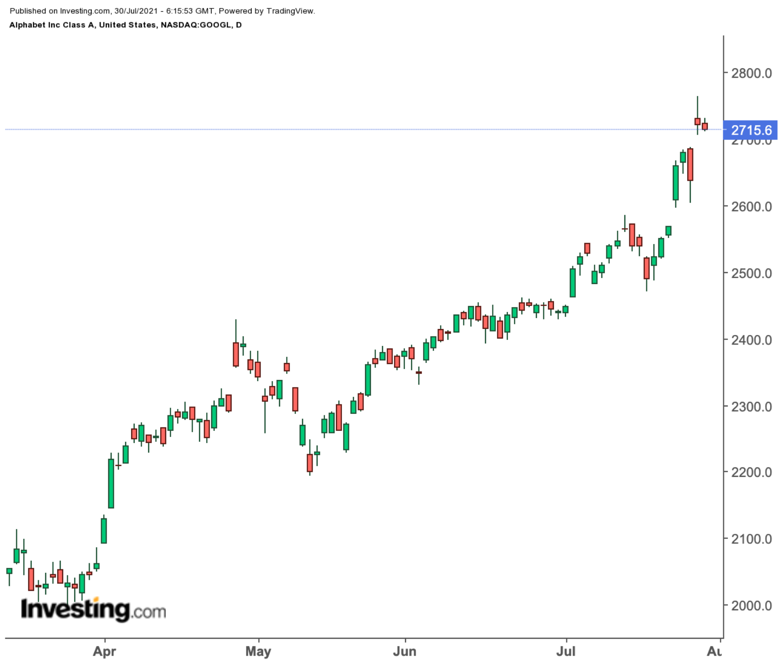 "We saw a rising tide of online consumer and business activity," said Chief Executive Sundar Pichai in a Wall Street Journal report, adding that digital publishers and YouTube partners earned more during the period than any time in the company's history.
The company posted $50.44 billion in sales from advertising, a 69% increase spurred by a red-hot US market where ad spending is on track to be the fastest in the post-war era. YouTube's ad business collected $7 billion in revenue, increasing 84% from a year earlier.
Bull Thesis Remains Intact
This growth momentum, according to many analysts, will continue as consumers resume trips to restaurants, shops and even vacation destinations—activities that fuel internet traffic and generate ad revenue for Google. Due to these positive catalysts, many leading analysts have raised their price target on Google stock this week.
JPMorgan, while raising its price target on GOOG stock to $3,250 from $2,638, said in a note that Alphabet remains one of its top picks as key components of the bull thesis continued to play out, including ad recovery, margin upside, cloud profit improvement and greater capital returns.
The note added:
"We continue to believe there is further upside as Search & YouTube are well-positioned to support an increasingly digital economy. We expect overall [operating income] margins to compress a bit in 2H21 as GOOGL brings back more variable costs, but [management's] tone here was less cautionary than expected and even as the company will invest for future growth, we believe it has likely gained some cost efficiencies coming out of COVID-19."
Barclays analysts in their note reiterated their call, listing Alphabet among their favorite names in the mega-cap tech space, noting the outlook for its shares remains bright. The firm held its overweight rating, though raised its price target to $3,200 from $3,000.
Their note said:
"Digital advertising is proving to be very resilient in this economic cycle, and the growth rates across the space, including at Google and YouTube, are staggering owing to share shift and easy comps—some of the highest figures we may ever see. Google's auction-based system is picking up in categories that are strong, while overall activity is elevated for both consumers and marketers."
Bottom Line
With its traditional growth driver, search-engine ads, remaining unchallenged, and the company positioning itself to grow faster in the post-pandemic world, Google's shares will continue to outperform other mega tech peers. The stock could see more upside as the economy reopens, bringing back digital ad sales from hospitality and travel businesses.