Reports Q3 2021 earnings on Thursday, Aug. 12, after the close
Revenue Expectation: $16.76B
EPS Expectation: $0.54
It's likely the Walt Disney Company (NYSE:) is going to have  a tough financial story to tell when it reports its latest quarterly numbers on Thursday, after the close. 
While it's been great news for its legacy businesses that the world's largest media and entertainment company has been opening its theme parks and theaters, it could also mean fewer subscriptions for its streaming business, which has become the key growth driver for the Burbank, California-based company during the pandemic.
If what happened to Disney's main rival, Netflix (NASDQ:), offers any guidance, it will be difficult for the House of Mouse to avoid this outcome. Netflix lost 430,000 subscribers in the U.S. and Canada last as life began to return to normal in North America after a year of lockdown and stay-at-home orders that fuelled demand for the home-based entertainment. 
Disney, which had 103.6 million streaming customers at the end of April, has enjoyed over the past year and a half as its Disney+ service quickly became a formidable streaming competitor for Netflix. After its launch in November 2019, the service provided the company a much needed boost when sales from its theme parks and theaters plunged.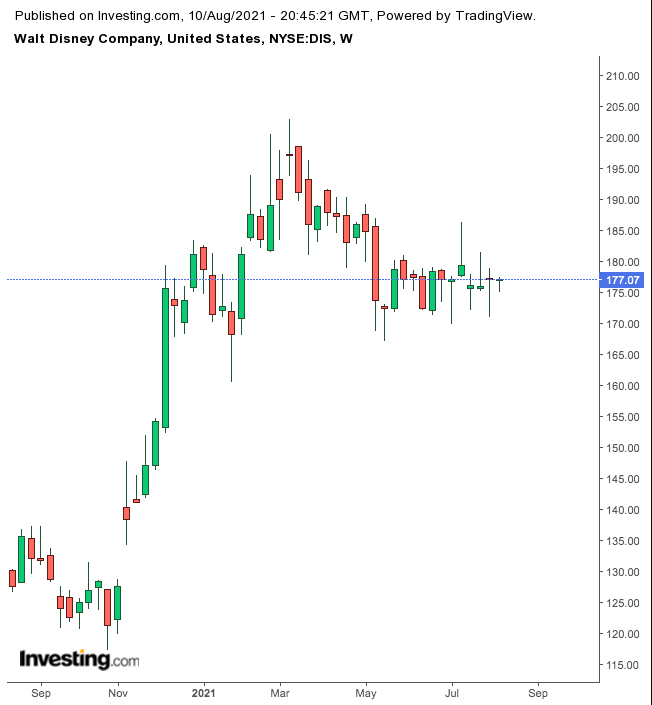 The slowing growth in Disney+ subscriptions has also taken some shine off its shares in recent weeks. The stock has fallen 13% since hitting a record high of $203 intraday in early March. The stock closed on Tuesday at $177.07.
Return To Normal
Despite this uncertainty, there are clear signs that Disney has emerged much stronger after the pandemic, and its growth will soon return to normal levels, thanks to huge pent-up demand for travel and entertainment outside the home.
For the quarter that ended June 30, analysts expect sales to grow 42% to $16.76 billion compared with the same period last year. The earnings per share is projected to reach $0.54, rebounding from a loss of $0.64 from last year. 
There could be some bumps on this road to recovery as the pandemic evolves and the emergence of virus variants could delay a full reopening, but Disney's diversified business has all it takes to ultimately rebound.
Already, executives have said bookings for Disney World in Orlando, Florida, are back to levels seen in 2019, while guest spending per capita at the park in the latest period jumped by double digits from a year ago. As far as growth at Disney+ is concerned, the company is keeping its guidance of 260 million global subscribers by the end of 2024, helped by a robust content slate after production delays and the shuttering of theaters for over a year.
Morgan Stanley, which has an overweight rating on Disney's stock, recommends investors buy this stock if its shares show weakness. Its recent note said:
"Shares are flat for the year, digesting last year's big 4Q run-up and concerns over near-term streaming estimates. We raise estimates and our [price target] on a faster parks recovery and a successful NFL renewal."
Morgan Stanley raised its price target to $210 per share from $200, representing a premium of 18.6% from where the stock closed on Tuesday.
Bottom Line
Disney's streaming growth has likely reached its peak after a powerful run during the pandemic, but that slowdown is normal and very much expected. Any post-earnings weakness in Disney stock is a buying opportunity in our view, especially when Disney's core business, which includes theme parks and movie theaters, is returning to growth and the company has established itself as the second largest streaming entertainment provider after Netflix.