U.S. unexpectedly rose in August, up 0.7%. Economists were expecting a decrease of 0.7% as the Delta variant was forecasted to keep people away from brick-and-mortar establishments like restaurants. They also pointed to continuing supply-chain issues leading to product shortages.
Retail sales include spending on meals, cars, clothes and computers. Together, they are a huge part of consumer spending and economic demand in the U.S. If, or some believe when, the Delta variant crests, economists are expecting a recovery of retail sales just in time for the holiday shopping season, when some consumers will be armed with savings and pent-up demand. But that rosy scenario has some caveats, like an increase in vaccination rates, an ease of product shortages, and the avoidance of another major and contagious COVID variant.
also provided a little surprise this morning. Initial unemployment claims came in at 332,000 versus an expected 322,000 for the week ended Sept. 11. The pandemic-era low number is sowing seeds of optimism that the U.S. labor market is experiencing sustained improvement.
In Asia, stocks ended mostly lower, led by a selloff in Chinese property stocks. The sector is now in the crosshairs of the government, which has said it wants to rein in the real estate industry. There were also some weak economic indicators raising questions on whether Asian economies are as strong as had been expected. Consumer spending in China increased 2.5%, far below the 7% increase forecasted. Also, industrial production growth was slightly below expectations, up 5.3% in August versus predictions of 5.8% growth.
50-Day To The Rescue Again
After nearly two weeks of getting pushed around, the Index found some help Wednesday from its old friend the 50-day moving average.
For months now, well, really, all year, that 50-day MA has been like a springboard for the index. Every time it landed there or got close to it, it got catapulted higher. We don't know if that's the case this time, but at least on Wednesday, one of the best days in a while, it looked like the lucky 50 club was at it again.
Going into Wednesday's session, that moving average had been right around 4430. The SPX had hit a low of 4435 on Tuesday and then 4438 early Wednesday. Both times, the technical support appeared to hold. From a sentiment perspective, anyway, this could be a positive sign. Keep in mind that the SPX has fallen below the 50-day MA several times this year, but never stayed below it more than a few days before starting a new upswing. If this time proves to be different and we see more selling pressure, that could suggest the market may be starting to execute a more serious decline.
Many analysts (including some of the biggest Wall Street investment banks) have recently written that the market is overdue for a 5% pullback or even a 10% correction. For them to be right, that 50-day is going to have to give way, so keep an eye on it in coming sessions.
September Stupor Strikes Again
Besides the excitement over that line on the charts (the 50-day MA) it was a bit hard to find stuff moving the market Wednesday. As the old song goes, things had been down so long that down started to look up. A little short-covering ahead of quadruple witching day tomorrow (see more below) could help explain the rebound, along with that technical factor discussed above.
A meeting of the Fed next week appears unlikely to alter the status quo, and while a smattering of companies are offering up results, the market is pretty much in an earnings lull before Q3 reporting season gets under way next month. September is often a month of dull trading featuring pressure on the market, from a historic perspective, at least.
The Cboe Volatility Index (), has struggled to break above its long-term average near 20, but pushed above it for a bit earlier this week before dropping back below 19 by late Wednesday. Barring any jolts to the system, we could see the index continue to drift between 16 and 20. The overall market could continue its back-and-forth choppiness until next week when we get a clearer picture on what the Fed is thinking in terms of timing of a pullback in its current stimulus efforts.
It may be worth keeping an eye on gold and the U.S. dollar. has been having a rough morning falling 1.5% while the U.S. dollar is starting off stronger. Both of these could act as indicators of economic activity.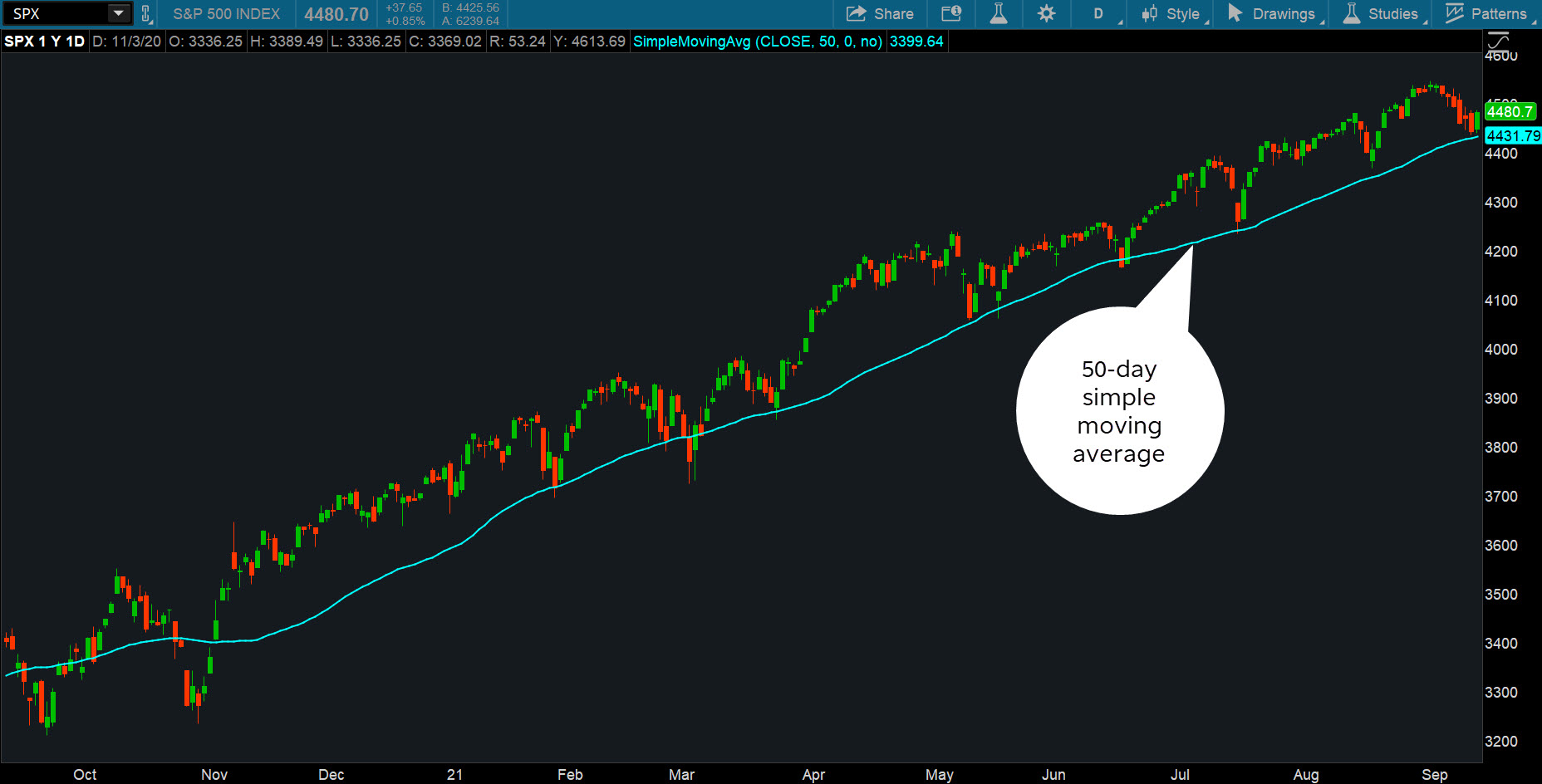 CHART OF THE DAY: THE MOVING AVERAGE SPRINGBOARD. We've seen this play out pretty much all year: The S&P 500 Index (SPX—candlestick) bouncing off its 50-day moving average (blue line). After six consecutive lower days, the SPX looks like it may bounce off its 50-day moving average once again but one day's action doesn't spell "trend reversal." But it is something to keep an eye on, going forward. Data source: S&P Dow Jones Indices.Chart source: The thinkorswim® platform. For illustrative purposes only. Past performance does not guarantee future results.
Friday's Date With A Witch: It only happens four times a year, and Friday is one of them. Stay tuned for "quadruple witching," the simultaneous expiration of individual stock options, stock-index options, stock-index futures and single-stock futures. Traditionally, trading is often choppier than normal heading into these days, with higher trading volume, too. Some analysts told the media recently that they've noticed the market tends to be weaker going into witching days the last few times they've happened, and sure enough, we're in the middle of some market struggles that basically have gone on all month. The counter-argument is that witching doesn't have the same impact it once did because of the popularity of weekly options.
Even so, witching can still make for choppy trading because so many things are coming off at once, and firms are unwinding positions vs. each other and vs. their stocks. The fact that the Fed is meeting next week might add to the turbulence this time around, but, as noted above, consensus on Wall Street seems to be turning toward more likelihood of a Fed stimulus tapering announcement later this year, not next week.
Shop In A Shop At A Store In A Store. That's not a new twist on a Cat in the Hat, but the familiar idea of having a stand-alone store in a larger, brick-and-mortar store appears to be making a comeback. Ulta Beauty (NASDAQ:) recently announced it is opening small-format shops inside 100 Target (NYSE:) locations around the country. Sephora has set up its shingle in Kohls (NYSE:), Disney (NYSE:) is tripling its stores in Target, and more Toys R Us shops can be found in Macy's (NYSE:).
The pandemic has accelerated the shop-in-shop trend. With consumers wanting to make the most of any in-person shopping trips, one-stop shopping with access to multiple brands is apparently becoming appealing. There are also marketing and revenue-sharing deals to be made between the stores to access a broader customer base with contracts that include arrangements to avoid cannibalization. This does beg the question of where all this leaves the beleaguered commercial retail real estate industry, already battered by Amazon (NASDAQ:)- induced online shopping trends and COVID-19 concerns that kept shoppers away from physical shopping malls even more. Sure, Target and Kohl's often anchor retail malls, but does this mean potential synergies or competition for the other stores in these malls.
Crude continues to surge: rose above $72 a barrel, a level we haven't seen since July. That's after a decline in crude supplies for six consecutive weeks, according to a Barron's report. It's not unusual to see this scenario play out during hurricane season. We've seen our share of hurricanes this year and are likely to see more coming. Hurricane Ida did cause oil refiners in the Gulf of Mexico to shut down. Plus, let's not forget the Delta variant concerns—another factor that might have an impact on crude oil prices. The rise in crude prices helped energy stocks such as Occidental Petroleum (NYSE:), Marathon Oil (NYSE:), ConocoPhillips (NYSE:), and Schlumberger (NYSE:), which saw their stock price rise at least 4% yesterday.
Reduced supply and hurricanes may not be the only factors impacting oil prices. A slowdown in China's growth could also have contributed to the spike in crude oil prices. Remember, China is one of the top crude oil consumers. It'll be interesting to see if the momentum in crude oil continues as we head into fall.
Disclaimer: TD Ameritrade® commentary for educational purposes only. Member SIPC. Options involve risks and are not suitable for all investors. Please read Characteristics and Risks of Standardized Options.