The crashed 4% Wednesday in the biggest loss since 2020.
The weekly losses were partially offset by Tuesday's nice 2% pop, but no matter how we try to rationalize it, -4% is a horrific day any way you cut it.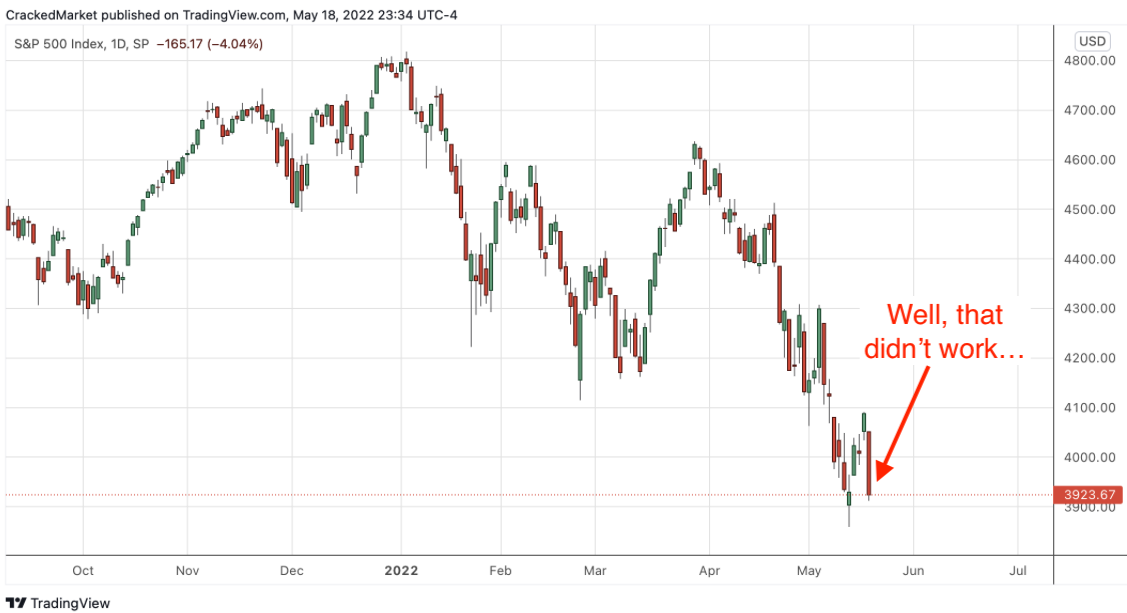 As most readers know, I bought last Thursday's late bounce and that trade was working well enough that I was able to lift my stops above my entry points this week.
And good thing I did because that allowed me to lock in a modest profit Wednesday morning before the selling really got carried away.
While no one is getting rich arbitraging these small swings, the good news is I could be wrong about the bounce but still make money on the trade. It is hard to beat that risk/reward!
If I'm right, I make a big pile of money. If I'm wrong, I make a small pile of money. I will take those trades every day of the week!
Now, it doesn't always work out this way, but for people that are willing to jump aboard these bounces early, it happens more often than you think.
Now, compare my modestly profitable trade to the more conventional approach of waiting for confirmation before buying. Those people bought Tuesday's 2% bounce, and unfortunately, almost every single one of them got dumped out for a loss Wednesday.
Getting in early is scary, but it is usually the safest time to be buying.
As for what comes next, there is no silver lining to a 4% loss. Dip buyers had the opportunity to jump aboard this latest bounce; instead, they sold it with everything they had.
If this market was oversold, it would have bounced and not looked back. Instead, we were left with this bloodbath.
At this point, I can't see any way around crashing through last week's lows near 3,850 and making the bear market official. And from there, only one bear market over the last 70 years bottomed at -20%, meaning odds are good once we hit -20%, the selling keeps going.
I'm still waiting for that next bounce, and it is coming, but lower prices are ahead of us first. Lucky, I'm watching this carnage from the safety of the sidelines. (Aggressive traders can short this weakness, but be ready to take profits quickly because these things bounce hard and fast.)