[ad_1]

UPS shares are down over 19% since the start of 2022.
Robust dividends may offer a hedge in the current inflationary environment.
Long-term investors could consider buying shares at current levels.
For tools, data, and content to help you make better investing decisions, try InvestingPro+.
Shareholders in the Atlanta, Georgia-based shipping giant United Parcel Service (NYSE:) have seen the value of their investment fall more than 14.8% over the past 52 weeks and 19.3% year-to-date (YTD). By comparison, the is down roughly 19% in 2022. Meanwhile, fierce rival FedEx (NYSE:) shares have lost 20%.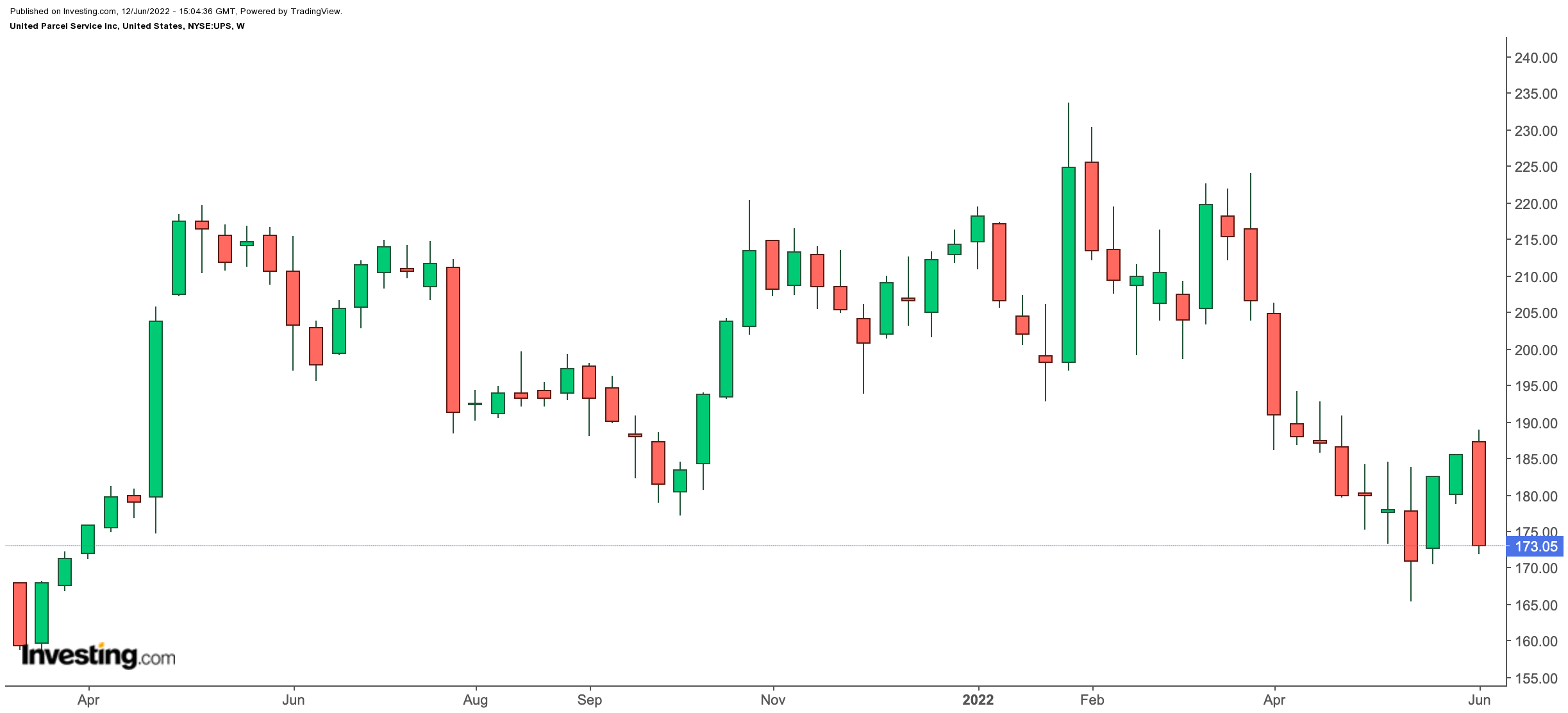 On Feb. 1, UPS shares went over $233, hitting a record high. But by May 19, they declined almost 30%. UPS stock's 52-week range has been $165.34-$233.72, while the market capitalization (cap) currently stands at $151.2 billion.
In 2021, United Parcel Service generated revenues of $97.3 billion. The logistics giant leads the express shipping and courier market in the US, closely followed by FedEx. Next come the U.S. Postal Service and Amazon's (NASDAQ:) logistics services.
How Recent Metrics Came
UPS released Q1 figures on Apr. 26. grew 6.4% year-over-year (YoY) and reached $24.4 billion. Adjusted diluted earnings per share (EPS) was $3.05, up 10.1% YoY.
The company generated $3.92 billion in free cash flow during the quarter. Earlier in the year, UPS had raised prices to fight inflation.
On the results, CEO Carol Tomé commented:
"The agility of our network and the continued execution of our strategy delivered another quarter of strong financial performance, putting us on our way to achieving our 2022 consolidated financial targets."
After the financial release, the company reaffirmed its FY 2022 financial targets, projecting an all-time high revenue of $102 billion. Investors are hopeful that UPS can continue to capitalize on the growth potential of e-commerce both in the US and worldwide.
Prior to the release of the Q1 results, UPS stock was around $182. But on June 10, it closed at $173.05. Shares currently support a dividend yield of 3.51%.
What To Expect From United Parcel Service Stock
Among 28 analysts polled via Investing.com, UPS stock has an "outperform" rating. Wall Street has a 12-month median price target of $224.22 for the stock, suggesting an increase of almost 30% from the current price. The 12-month price range currently stands between $148 and $270.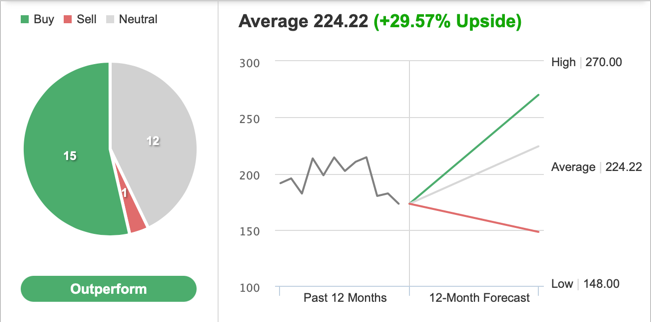 Source: Investing.com
Similarly, according to a number of valuation models, like those that might consider P/E or P/S multiples or terminal values, the average fair value for UPS stock on InvestingPro stands at $222.32.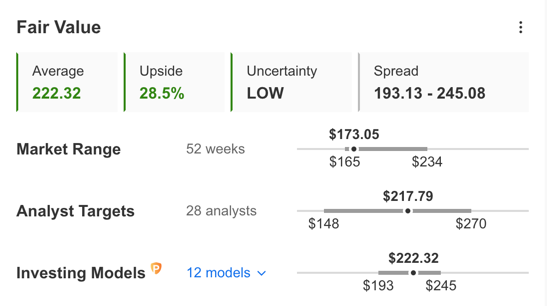 UPS Fair Value
Source: InvestingPro
In other words, fundamental valuation suggests shares could increase by 28.5%.
We can also look at UPS's financial health as determined by ranking more than 100 factors against peers in the industrials sector.
For instance, in terms of growth, price momentum and profit, it scores 4 out of 5. Its overall score of 4 points is a great performance ranking.
At present, the stock's P/E, P/B and P/S ratios are 14.1x, 9.8x and 1.5x, respectively. Comparable metrics for peers stand at 16.4x, 4.4x and 0.8x, respectively.
Our expectation is for United Parcel Service stock to trade in a wide range between $160 and $180 in the coming weeks. Afterwards, UPS shares could potentially start a new leg up.
Adding UPS Stock To Portfolios
United Parcel Service bulls who are not concerned about short-term volatility could consider investing now. Their target price would be $222.32, as suggested by quantitative models.
Alternatively, investors could consider buying an exchange-traded fund (ETF) that has UPS stock as a holding. Examples include:
iShares Transportation Average ETF (NYSE:)
Industrial Select Sector SPDR® Fund (NYSE:)
ProShares Supply Chain Logistics ETF (NYSE:)
Vanguard Industrials Index Fund ETF Shares (NYSE:)
U.S. Global Sea to Sky Cargo ETF (NYSE:)
Finally, investors who expect UPS stock to bounce back in the weeks ahead could consider setting up a bull call spread.
Most option strategies are not suitable for all retail investors. Therefore, the following discussion on UPS stock is offered for educational purposes and not as an actual strategy to be followed by the average retail investor.
Bull Call Spread On United Parcel Service Stock
Price At Time Of Writing: $173.05
In a bull call spread, a trader has a long call with a lower strike price and a short call with a higher strike price. Both legs of the trade have the same underlying stock (i.e. United Parcel Service) and the same expiration date.
The trader wants UPS stock to increase in price. In a bull call spread, both the potential profit and the potential loss levels are limited. The trade is established for a net cost (or net debit), which represents the maximum loss.
Today's bull call spread trade involves buying the Aug. 19 expiry 175 strike call for $10.10 and selling the 180 strike call for $7.70.
Buying this call spread costs the investor around $2.40 or $240 per contract, which is also the maximum risk for this trade.
We should note that the trader could easily lose this amount if the position is held to expiry and both legs expire worthless, i.e., if the UPS stock price at expiration is below the strike price of the long call (or $175 in our example).
To calculate the maximum potential gain, we can subtract the premium paid from the spread between the two strikes, and multiply the result by 100. In other words: ($5.00 – $2.40) x 100 = $260.
The trader will realize this maximum profit if the United Parcel Service stock price is at or above the strike price of the short call (higher strike) at expiration (or $180 in our example).
Bottom Line
In recent months, UPS stock has come under significant pressure. Yet, the decline has improved the margin of safety for buy-and-hold investors who could consider investing soon. Alternatively, experienced traders could also set up an options trade to benefit from a potential run-up in the price of UPS stock.
***
Interested in finding your next great idea? InvestingPro+ gives you the chance to screen through 135K+ stocks to find the fastest growing or most undervalued stocks in the world, with professional data, tools, and insights. Learn More.
[ad_2]

Source link